Main content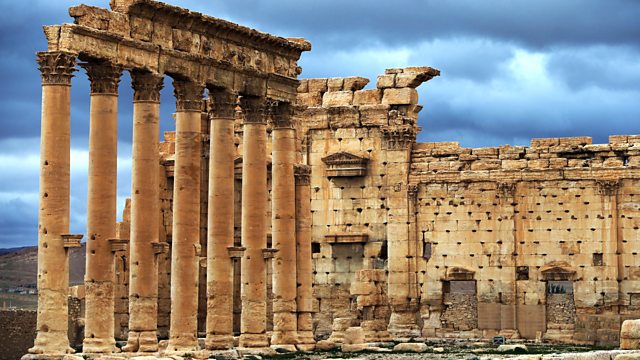 Palmyra: Temple of Bel
One of Palmyra's most iconic structures - and the man who gave his life to protect the city.
The Museum of Lost Objects traces the histories of 10 antiquities or cultural sites that have been destroyed or looted in Iraq and Syria.
In May 2015, the Syrian city of Palmyra was captured by the forces of the so-called Islamic State. Few of the group's excesses have won as much attention as their ravaging of the city. They waged a campaign of violence against the local population, and they systematically destroyed many of the city's great monuments, including the 2,000-year-old Temple of Bel. We trace the story of the Temple, pay homage to Palmyra's ancient warrior Queen Zenobia – and hear from a modern-day Zenobia, daughter of Khaled al-Asaad, director of antiquities at Palmyra, who was beheaded by IS. She tells us when IS militants took over her home and her last words with her father. This programme was first broadcast on 1 March, 2016.
Presenter: Kanishk Tharoor
Producer: Maryam Maruf
Contributors: Nasser Rabbat, Massachusetts Institute of Technology; Salam al-Kuntar, University of Pennsylvania Museum; Zenobia al-Asaad, daughter of Khaled al-Asaad, her words read in English by Amira Ghazalla
Picture: Temple of Bel, Palmyra
Credit: Getty
With thanks to Faisal Irshaid of BBC Arabic, Alma Hassoun of BBC Monitoring, Rubina Raja of Aarhus University, Christopher Jones of Columbia University, and Christa Salamandra of City University of New York.
Last on
Broadcasts

Museum of Lost Objects ‒ The Podcast
Podcast
Tracing the histories of antiquities and landmarks that have been destroyed or looted.