Main content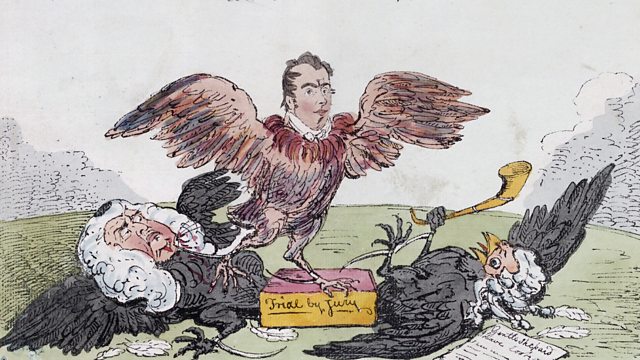 Trial by Laughter
Present-day satirists Ian Hislop and Nick Newman, renowned for their battles with the establishment, dramatise an earlier struggle against censorship.
Trial by Laughter by Ian Hislop and Nick Newman.
William Hone is the forgotten hero of free speech in Britain. He was a bookseller, publisher and satirist. In 1817, he stood trial for 'impious blasphemy and seditious libel'. His crime was to be funny. Worse than that he was funny by parodying religious texts. And worst of all, he was funny about the despotic government and the libidinous monarchy. A comedy drama based on the real trial transcripts.
Original music by Conrad Nelson
Director/Producer Gary Brown
Ian Hislop is the editor of Private Eye and a team captain on 'Have I got News for You'. Nick Newman is a satirical cartoonist for The Sunday Times and Private Eye. They have known each other since their schooldays and have written many successful TV programmes together including 'My Dad's the Prime Minister' and 'The Wipers Times'.
Nick Newman looks at a scandalous historical pairing of satirist and cartoonist.
Credits
| Role | Contributor |
| --- | --- |
| Hone | Robert Wilfort |
| Prince Regent | Arthur Bostrom |
| Cruikshank | Conrad Nelson |
| Ellenborough | Jonathan Keeble |
| Shepherd | David Benson |
| Abbott | Malcolm Raeburn |
| Lady Hertford | Melissa Sinden |
| Sarah | Fiona Clarke |
| Reporter | Graeme Hawley |
| Clerk | Graeme Hawley |
| Director | Gary Brown |
| Producer | Gary Brown |
| Writer | Ian Hislop |
| Writer | Nick Newman |
Audio Books - great readings