Main content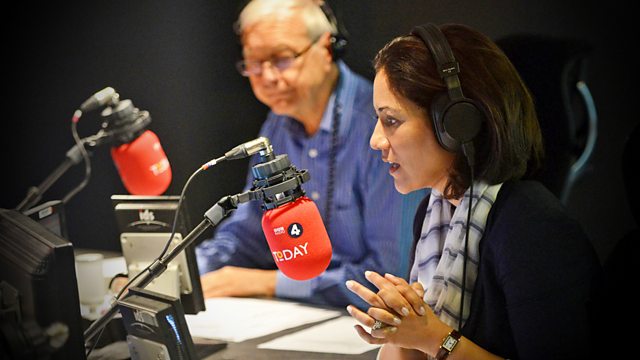 27/02/2016
Morning news and current affairs. Including Yesterday in Parliament, Sports Desk, Weather and Thought for the Day.
Today's running order
0710
Reports from Syria suggest the main battlefields in the conflict have largely fallen quiet in the hours since a temporary ceasefire came into force. The UN Special Envoy, Staffan De Mistura, has invited the Syrian government and opposition to further negotiations in Geneva in  March. Mark Lowen is the BBC's correspondent in Gaziantep on the Turkish-Syrian border.
0720
Writer Ian Buruma's grandparents were both children of German-Jewish immigrants, yet they were both intensely patriotic Brits. Buruma examines the letters they sent to each other, analysing the process by which they came to terms with their own identities and assimilated into British life and culture. Writer, Ian Burmuma joins us live in the studio.
0730
CND (Campaign for Nuclear Disarmament) supporters are due to travel to London today for a rally to oppose government plans to replace Trident, the UK's nuclear weapons system, ahead of a parliamentary decision due later this year. Dr William Perry was the United States Secretary of Defence from 1994 to 1997.
0740
This week, India witnessed large scale protests about the caste system close to the capital Delhi. Nineteen people were killed and billions of pounds worth of property destroyed. The protesters were from the Jatt community, demanding caste-based job quotas. Sanjoy Majumder, the BBC's Indian correspondent, reported from the town of Rohtak, near Delhi.
0750
The Nobel Prize-winning scientist Sir Paul Nurse said the British scientific community is almost universally opposed to leaving the European Union - as it would have a detrimental effect on the UK's scientific research. Sir Paul Nurse, Head of the Francis Crick Institute and former President of the Royal Society joins us live in the studio.
0810
Further analysis on CND rally (See 0730). Lord Hutton is Labour Peer and former Labour Defence Minister.
0820
During the current campaign Donald Trump has run into trouble for playing Adele songs against her wishes, while Bernie Sanders has scored a hit with Simon and Garfunkel's ballad America. Nick Bryant the BBC's correspondent has been listening to some of this year's musical offerings and also some songs from the past.
0830
In her review Dame Janet Smith said she was told of 17 occasions of abuse by Jimmy Savile in connection with the programme Jim'll Fix It. Roger Ordish who produced Jim'll Fix It for the whole of its nineteen year run gave evidence to Dame Janet's enquiry. She was satisfied he had not been aware of any criminal conduct by Savile. Roger Ordish spoke to Today's presenter Justin Webb.  
0840
Further analysis of ceasefire in Syria (see 0710).
Peter Ford was British Ambassador to Syria from 2003 to 2006.
0850
It's the 88th Academy Awards on Sunday, and "The Revenant" is leading the race with 12 nominations. The film uses visual effects for a crucial scene where the protagonist survives a brutal attack by a bear. Paul Franklin, Oscar-winning visual effects supervisor and Adam Brown, British actor joins us live in the studio.