Main content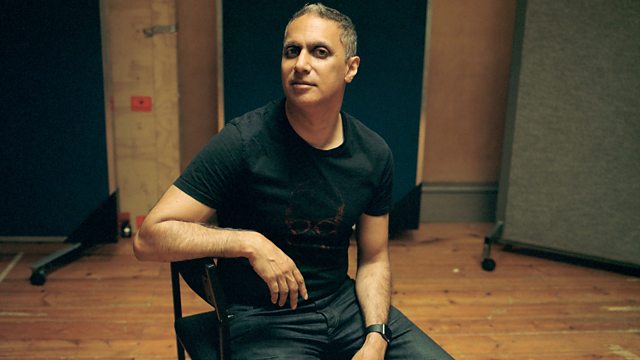 Lopa Kothari - Nitin Sawhney in Session
Lopa Kothari presents new music from around the world, plus a live studio session in which Nitin Sawhney performs tracks from his new album Dystopian Dream.
Lopa Kothari with new music from across the globe, and a live session with Nitin Sawhney, performing tracks from his new album 'Dystopian Dream'.
Nitin Sawhney is joined live in the studio by his regular band Eric Appapoulay on guitar, Aref Durvesh on Tabla and singer Nicki Wells. Across two decades, Nitin Sawhney has become one of the most accomplished and versatile musicians on the scene - with credits as guitarist, pianist, songwriter, film composer, DJ, orchestral arranger, producer, theatre director, and not least broadcaster. Dystopian Dream is his tenth album, with dark themes running through it. Nitin Sawhney says of it, "I became increasingly disillusioned with the hypocritical world of politics, with immigrants (like my parents) once more being scapegoated and austerity measures being used to bludgeon the poorest and most vulnerable sections of society. I found these feelings of despair about political and social injustices being blamed on immigrants were being amplified constantly in the news.".
Last on
Music Played
Suistamon Sähkö

Homewards

Suistamo Electricity.
Kihtinäjärvi records.
1.

Claudio Veeraragoo

Bhai Aboo

Soul Sok Séga: Sega Sounds From Mauritius 1973 - 1979.
Strut.
9.

Δημήτρης Μυστακίδης

Na glitosoume ki oi dyo feat. Elefthera Arvanitaki

Koo Nimo

The Destiny Of Man

Palm Wine Music in the 21st century.
Oriente Musik.
1.

Josiah Jesse Ransome-Kuti

Jesu Olugbala Ni Mo F'ori Fun E

West Africa At The British Library.
The British Library.
4.

Nitin Sawhney

&

Eric Appapoulay

Immigrant

Nitin Sawhney

&

Eric Appapoulay

Sunset

Chico Trujillo

Abajo Del Bote

Reina De Todas las Fiestas.
Barbes Records.
1.

Songs of Separation Collective

Echo Mocks the Corncrake feat..Karine Polwart

Songs of Separation.
www.songsofseparation.co.uk.
1.

Stick in the Wheel

Bows of London

Bows of London EP.
From Here Records.
1.

The Furrow Collective

Wild Hog in the Woods

Wild Hog in the Woods.
www.thefurrowcollective.co.uk.
1.

Nusrat Fateh Ali Khan

Mustt Mustt - Massive Attack Remix (Heritage Track)

Mustt Mustt (Massive Attack Remix).
Virgin.

Nitin Sawhney

&

Eric Appapoulay

Dark Day

Nitin Sawhney

&

Eric Appapoulay

Tere Khyaal

Simdi Ensemble & Michel Goddard

Bulan Ozuunuu Gooren Yuuzuunuu

Eternal Love.
Dreyer Gaido.
3.

Carlos Gardel

Lejana Tierra Mia

Rough Guide to Carlos Gardel.
World Music Network.
22.

Aziza Brahim

Buscando la Paz

Abbar el Hamada.
Glitterbeat Records.
1.

Laura Daccache

Al Ward (1947)

The Very Best of Laure Daccache (L'âge d'or du chant arabe).
Jasmine.
3.

Yaz Fentazi

Blues It (BBC Introducing)

Gilberto Gil & Caetano Veloso

Expresso 2222 (Ao Vivo)

Dois Amigos, Um Século de Música.
Sony Music Entertainment.
7.

Monsieur Periné

Lloré

Caja De Música.
Sony Music Entertainment Colombia.
13.

Djélimady Tounkara

Diamana mara Manssa

Dejely Blues.
Djelimady Tounkara.
2.
Broadcast