Main content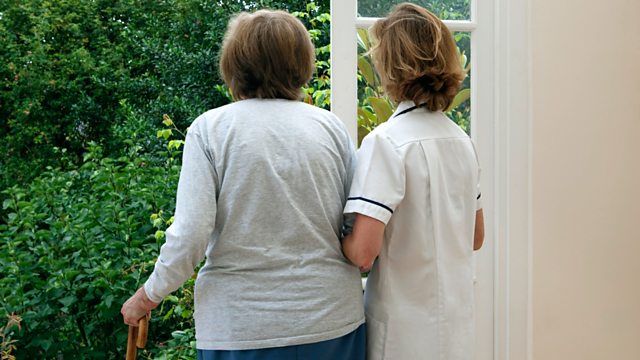 Care home fees, Fast cars, Scottish tea
The families paying unfair care home fees, because local authorities are flouting new rules. With Winifred Robinson.
A charity for older people, Independent Age, says many families are paying over the odds for their relative's care home, because local authorities are flouting new legislation. The rules, brought in last year under the Care Act, meant that families who were eligible for local authority funded care should not have to pay extra, when their relative's care needs change. The charity says nearly half of councils in England who answered a Freedom of Information request aren't complying with the changes. As a result, some families are being charged fees to pay for basic care, that should be funded by their local authority.
The father of a young woman who was killed by a car which had reached speeds of over 100 mph, tells us that the car industry advertises cars in a way that encourages them to be driven too fast. He's calling for a ban on car adverts that promote speed and power, and has told MPs that high performance cars designed for racing should not be allowed on public roads.
In Britain we spent more than £650m on tea last year, most of it produced in China and India. But if you fancy an alternative cuppa, how about tea grown in Scotland? Some of the newest commercial tea plantations are to be found in Scotland and there's now even a Scottish Tea Growers Association.
Producer: Jonathan Hallewell
Presenter: Winifred Robinson.
Last on
Chapters
Care Homes Fees

Councils flout new rules meant to protect families from unfair care home fees

Duration: 09:35

Care Homes Fees

Councils flout new rules meant to protect families from unfair care home fees

Duration: 09:35

Scottish Tea

Delicious tea grown in Scotland

Duration: 05:58

BT Openreach

Ofcom review into the future of BT Openreach

Duration: 05:32

Mental Health Transport

How can transport systems be made easier for people with mental health problems?

Duration: 07:33

Racing Greyhounds

A parliamentary report is calling for better welfare for greyhound racing dogs

Duration: 04:23

Speeding Cars

The father of a woman killed by a high speed car says fast car adverts encourage speeding

Duration: 05:27

Broadcast