Main content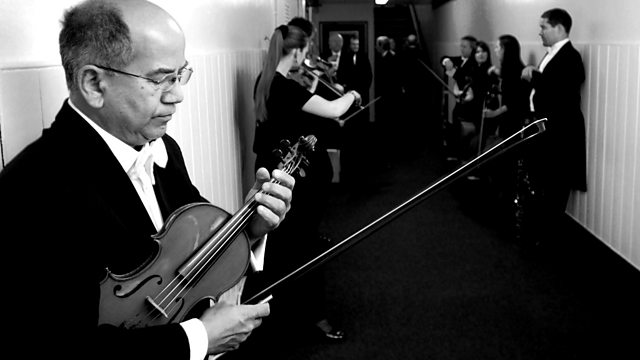 Ulster Orchestra
Fiona Talkington introduces the Ulster Orchestra conducted by Rafael Payare at the Ulster Hall in Belfast performing works by Beethoven and Timo Andres.
Fiona Talkington introduces the Ulster Orchestra, conducted by their Chief Conductor Rafael Payare, from the Ulster Hall in Belfast. The programme features works by Beethoven and the European premiere of The Blind Banister, for piano and orchestra, by the American composer Timo Andres .
7.30
Beethoven: Leonore Overture No.2, Op.72
Beethoven: Piano Concerto No.2 in B Flat, Op.19
8.15: INTERVAL
8.35
Timo Andres: The Blind Banister - European Premiere
Beethoven: Symphony No.2 in D Major, Op.36
Jonathan Biss, Piano
Ulster Orchestra
Rafael Payare Conductor
The programme begins with Beethoven's Leonore Overture No. 2. Premiered in Vienna in 1805, the work is both lavish and daring: a great testament to the freedom and power of the composer's imagination, not yet restricted by the realities of working in the opera house. Ten years earlier, and also in Vienna, Beethoven's Piano Concerto No.2 was unveiled. The concerto was a resounding success with both audience and critics, but Beethoven was dissatisfied with it and wrote an apologetic letter to his publisher: "A concerto for pianoforte which, it is true, I do not make out to be one of my best." It was the young composer-pianist's formal introduction to Viennese society, and reflected his mastery of Classical form and style.
During the interval Fiona Talkington talks to this evening's soloist, Jonathan Biss, about his love of Beethoven and the influences of the composer in The Blind Banister by Timo Andres, the work which begins the second half. Includes a selection of his chamber music recordings.
The work of the critically acclaimed American composer Timo Andres takes its inspiration from a wide range of sources, as diverse as Sigur Rós and composers including Brahms, Schumann, Mozart, and Ives. The Blind Banister, for piano and orchestra, was written in 2015 for Jonathan Biss. It is also dedicated to him. It has close links with Beethoven's Piano Concerto No.2. The composer writes: "I tried as much as possible to start with those same extremely simple elements Beethoven uses; however, my piece is not a pastiche or an exercise in palimpsest. It doesn't even directly quote Beethoven. There are some surface similarities to his concerto (a three-movement structure, a B-flat tonal centre) but these are mostly red herrings. The best way I can describe my approach to writing the piece is: I started writing my own cadenza to Beethoven's concerto, and ended up devouring it from the inside out."
The programme ends with Beethoven's Second Symphony, written during one of the most emotionally troubled periods in his life. Despite his turmoil, the work is full of vitality: a composer smiling in the face of adversity.