Main content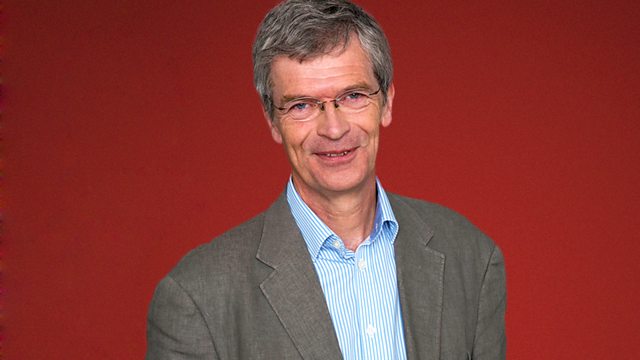 27/02/2016
There's a nod in the direction of the rock and pop world in this week's selections from listeners' requests, as Alyn Shipton plays Joni Mitchell's tribute to Mingus and UK drummer Dylan Howe's sideways glance at the music of David Bowie.
Performers:
Artist  Richard Groove Holmes
Title  Misty
Composer Garner
Album  Soul Message
Label  Prestige
Number  7435 Track 3
Duration  6.03
Performers: Groove Holmes, org; Gene Edwards, g; Jimmie Smith, d. August 1965.

Artist  Louis Armstrong
Title  All That Meat and No Potatoes
Composer Waller, Kirkeby
Album  Satch Plays Fats
Label  Essential Jazz Classics
Number  55601 Track 6
Duration  5.17
Performers: Louis Armstrong, t, v; Trummy Young, tb; Barney Bigard, cl; Billy Kyle, p; Arvell Shaw, b; Barrett Deems, d; Velma Middleton, v. 27 April 1955.

Artist  Jack Teagarden (with Ben Pollack's Park Central Orchestra)
Title  From Now On
Composer Freed / Brown
Album  Big T
Label  Proper
Number  CD 1 Track 14
Duration  2.41
Performers: Sub Pollard, Ruby Weinstein, c; Jack Teagarden, tb; Joe Catalyne, Gil Rodin, Larry Binyon, reeds; Ed Bergman, l eller, Bill Schuman, strings; Vic Breidis, p; Dick Morgan, bj; Harry Goodman, tu; Ray Bauduc, d; Smith Bellew, v; Ben Pollack, dir. 27 Sep 1929

Artist  Johnny Griffin and Eddie Lockjaw Davis
Title  Tickle Toe
Composer Young
Album  Tough Tenors
Label  Jazzland
Number  931 T1
Duration  5.30
Performers Johnny Griffin (ts); Eddie "Lockjaw" Davis (ts); Junior Mance (p); Larry Gales (b); Ben Riley (dr), 1960.

Artist  Dylan Howe
Title  Weeping Wall
Composer Bowie
Album  Subterranean: New Designs on Bowie's Berlin
Label  Mortorik
Number  Track 2
Duration  7.04
Performers Julian Siegel, Brandon Allen, ts; Ross Stanley, kb; Mark Hodgson, b; Dylan Howe, d. 2014.

Artist  Joni Mitchell
Title  Goodbye Pork Pie Hat
Composer Mingus / Mitchell
Album  Mingus
Label  Asylum
Number  Track 11
Duration  5.36
Performers: Joni Mitchell - guitar, vocals; Jaco Pastorius, b; Wayne Shorter - soprano saxophone;Herbie Hancock - electric piano; Peter Erskine - drums; Don Alias - congas; Emil Richards – percussion; 1979.

Artist  Erroll Garner
Title  Stella By Starlight
Composer Washington / Young
Album  A Night at the Movies
Label  Telarc
Number  83378 track 8
Duration  2.58
Performers: Erroll Garner, p; Ike Isaacs, b; Jimmie Smith, d; Jose Mangual, perc.

Artist  John Coltrane
Title  Greensleeves
Composer trad. Arr Tyner
Album  Complete Impulse Studio Recordings
Label  Impulse
Number  IMPD8 280 CD 1 Track 1
Duration  3.45
Performers John Coltrane ss; McCoy Tyner, p; Jimmy Garrision, b; Elvin Jones, d.

Artist  Alan Barnes / Ken Peplowski
Title  Shady Side
Composer Hodges
Album  Doodle Oodle
Label  Woodville
Number  Track 7
Duration  8.45
Performers Alan Barnes, as; Ken Peplowski, ts; John Pearce, p; Alec Dankowrt, b; Martin Drew, d. 2009.
Artist  Chris Barber
Title  There'll Be a Hot Time in the Old Town Tonight
Composer Metz / Hayden
Album  1959-60
Label  Lake
Number  324 CD 2 Track 10
Duration  3.11
Performers Ottilie Patterson, v; Pat Halcox, t; Chris Barber, tb; Monty Sunshine, cl; Eddie Smith, bj; Dick Smith, b; Graham Burbidge, d. Jan 1959
Artist  Nellie Lutcher
Title  Hurry on Down
Composer Lutcher  
Label  Capitol
Number  40002 Side A
Duration  2.28
Performers: Nellie Lutcher and Her Rhythm: Nellie Lutcher, p, v; Ulysses Livingston (guitar), Billy Hadnott (bass), Lee Young (drums). 1948