Main content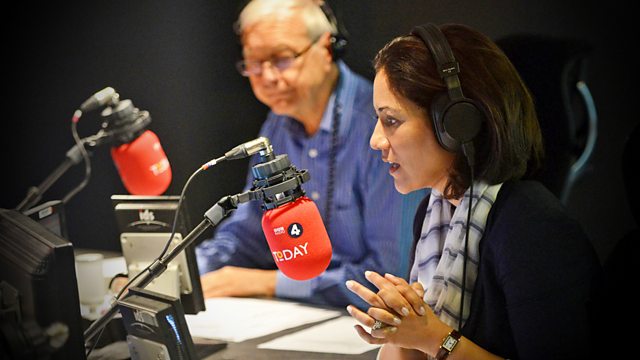 23/02/2016
News and current affairs. Including Sports Desk, Yesterday in Parliament, Weather, Thought for the Day.
Today's running order
0650
As Hollywood gears up for the Oscars, Pakistani filmmaker Sharmeen Obaid Chinoy has been using her nomination to shed light on one of the country's most critical issues - honour killings. Ms Chinoy has been speaking to our Pakistan correspondent Shaimaa Khalil.
0655
90% of local councils are expected to put up their council tax next year to pay for social care. Julian Bell is Labour leader of Ealing Council, one of just nine councils expected not to increase their council tax to fund social care.
0710
A detailed analysis, published by two medical Royal Colleges - the Royal College of Physicians and the Royal College of Paediatrics and Child Health - suggests that outdoor air pollution could be linked to around 40,000 deaths a year in the UK. Professor Stephen Holgate is an asthma expert at Southampton University and author of the report.
0715
Yesterday, the boss of Facebook Mark Zuckerberg made a bold claim: the future of communication and socialising would be virtual reality. Rory Cellan Jones is the BBC's technology correspondent.
0720
The Europe debate pits our top politicians against each other – expect lots of sound and fury in the Commons and on the airwaves in the coming months. But someone has to knock on doors and persuade people to vote and physically get them to the polling station on polling day. Tom Bateman reports from the London borough of Enfield.
0725
The veteran British cinematographer Douglas Slocombe has died at the age of 103. Douglas Slocombe shot some 80 films - from classic Ealing comedies of the '40s and '50s to three Indiana Jones adventures for Steven Spielberg. We hear from the BBC's Arts correspondent Vincent Dowd.
0730
The newly appointed England Rugby coach - the Australian Eddie Jones - has said this week that he had not a single world class player at his disposal. His most successful predecessor Sir Clive Woodward said he thought England players were unfit. Justin Webb has been talking to Eddie Jones about what can be done to bring England team up to the level of the best in the world.
0740
The National Portrait Gallery in Washington DC has unveiled a painting of a fictional US President – the character Frank Underwood from the hit television series House of Cards, played by Kevin Spacey. Our correspondent Jane O'Brien has been talking to the artist Jonathan Yeo and to the actor Kevin Spacey about his alter ego.
0750
A review of maternity services in England has recommended every woman should have a personal maternity care budget to allow choice including whether to give birth in hospital or a midwife-led unit. James Titcombe's son Joshua died at Morecambe Bay Hospital – he has since become a safety advisor to the Care Quality Commission. Baroness Cumberlege is the report author and former Conservative health minister.
0810
Yesterday, the boss of Facebook Mark Zuckerberg made a bold claim: the future of communication and socialising would be virtual reality. John Humphrys has been exploring the possibilities of VR and we hear from Dr Dave Ranyard, a virtual reality developer and former director of Sony's computer games and entertainment studio in London.
0820
A baby western lowland gorilla has been born at Bristol Zoo Gardens after an emergency caesarean procedure. Rowena Killick is staff vet at Bristol Zoo - she was in charge of the whole procedure and provided emergency resuscitation for the baby.
0825
"When I was 11, our music teacher laid his hand on my arm and asked me to stop singing.  He told me I was spoiling it for everyone else." After her first negative review, Nadine Cooper decided to avoid singing in public. Now she has set up what she calls The Tuneless Choir which has become hugely popular within just a few weeks.
0830
Dozens of business leaders, including 35 FTSE CEOs and chairmen, have signed a letter of support of David Cameron's position on Europe. Jim Mellon is an investor worth an estimated £850 million and a major donor to the leave.eu campaign and Jayne Ann Gadhia is CEO of Virgin Money and signatory to the letter supporting Remain.
0835
Fears have been raised that George Osborne could be on the verge of abolishing the tax-free lump sum paid to retirees at the start of their pension. Mark Garnier is Conservative MP for Wyre Forest and member of the Treasury Select Committee.
0840
When neuroscientist Dr Doug Fields was robbed on a street in Barcelona in the presence of his 17-year-old daughter, he surprised himself by reacting instantly and fighting back. In his new book Why We Snap, Dr Fields asks why he behaved this way and explores what it is that makes us snap, arguing that it is not a sense of immorality or any mental defect, but an evolutionary neurological process.
0850
Leaders of a rural Indian caste reached a deal late on Monday to end protests that paralysed a northern state and left more than 10 million people in Delhi without water, after winning a pledge of more government jobs. Speaking on the programme is historian of modern Britain and the British Empire Dr Chandrika Kaul, and sociologist Professor Dipankar Gupta.
All subject to change.