Main content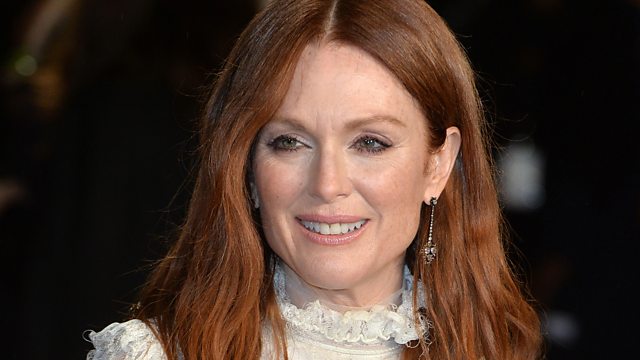 Weekend Woman's Hour: Julianne Moore, Author KM Peyton, Musician and designer Beth Ditto
Actor Julianne Moore on her film Freehold, Beth Ditto discusses her new plus size fashion line, and why is having facial hair something that women still do not want to talk about?
The Oscar winning actor Julianne Moore talks about her role in the film Freeheld.
Lots of people have been asked to celebrate 'great mothers' on the social media 'motherhood challenge'. But is this just a smug fetishisation of motherhood, pushing it as an ideal of womanly perfection? And what about those women who can't or choose not to have children. We discuss with journalist Flic Everitt and Jody Day founder of Gateway Women a support network for women who are childless by circumstance.
The author of Flambards, KM Peyton, tells us about her latest novel Wild Lily and why she continues to be obsessed by horses.
In 1999, two teenagers armed with bombs and guns walked into their school and began shooting. Twelve children died at Colorado's Columbine High while another 24 were injured in what was then ' the worst school shooting in history'. Sue Klebold's son Dylan was one of the boys who carried out the attack. She describes her love for her son and attempts to find a reason for the tragedy.
Women often feel self-conscious about facial hair but it's very common. We discuss why is it something that we still don't talk openly about with Dr Sam Bunting a cosmetic dermatologist and Laura Cofield a PhD student at Sussex University who is writing about a cultural history of body hair removal in 20th century Britain.
How do adults with a learning disability make friends and relationships in a safe environment? We hear from Mandy and Jay who met through a charity called Stars in the Sky in Hampshire.
Beth Ditto the lead singer of the cult American band Gossip and outspoken LGBT activist talks about her new plus size fashion line.
Producer: Rabeka Nurmahomed
Editor: Beverley Purcell.
Credits
| Role | Contributor |
| --- | --- |
| Presenter | Jenni Murray |
| Interviewed Guest | Julianne Moore |
| Interviewed Guest | Flic Everitt |
| Interviewed Guest | Jody Day |
| Interviewed Guest | KM Peyton |
| Interviewed Guest | Sue Klebold |
| Interviewed Guest | Sam Bunting |
| Interviewed Guest | Laura Cofield |
| Interviewed Guest | Beth Ditto |
| Producer | Rabeka Nurmahomed |
| Editor | Beverley Purcell |