Main content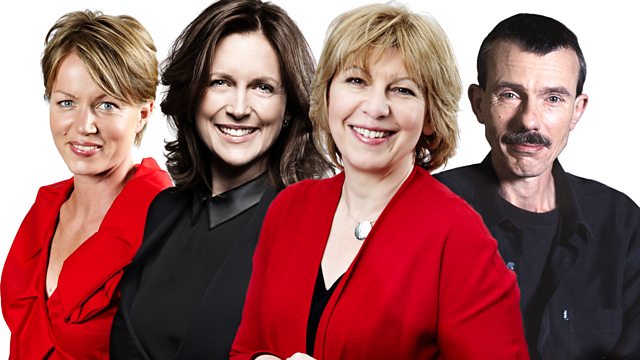 Puccini - Gianni Schicchi
Penny Gore presents a Royal Opera House performance from 2011 of Puccini's Gianni Schicchi, the final part of Il Trittico. Starring baritone Lucio Gallo.
Penny Gore presents today's Opera Matinee; the last installment of Puccini's Trittico, Gianni Schicchi, recorded at the Royal Opera House in 2011. Buoso Donati dies and his devastated extended family gather round his bedside to mourn, and more importantly to find out what they've been left in his will. When it emerges that in fact he's left everything to the local monastery, the Donati family's only hope is that the wily Gianni Schicchi will come up with a plan. Combining farce with some beautifully poignant musical moments, Puccini's lighthearted comedy is performed by a cast including Lucio Gallo and Ekaterina Siurina, conducted by Antonio Pappano.
Plus more from this week's featured orchestra, the BBC Philharmonic and a concert given in the Victoria Hall, Hanley which featured music by Walton, Bruch and Vaughan Williams.
2pm
Opera Matinee
Puccini Gianni Schicchi
Gianni Schicchi ..... Lucio Gallo (baritone)
Lauretta ..... Ekaterina Siurina (soprano)
Rinucchio ..... Francesco Demuro (tenor)
Zita ..... Elena Zilio (mezzo soprano)
Simone ..... Gwynne Howell (bass)
Nella ..... Rebecca Evans (soprano)
Gherardo ..... Alan Oke (tenor)
Ciesca ..... Marie McLaughlin (soprano)
Marco ..... Robert Poulton (baritone)
Betto ..... Jeremy White (bass)
Spinellocchio ..... Henry Waddington (bass baritone)
Amantio ..... Enrico Fissore (bass)
Pinellino .... Daniel Grice (bass baritone)
Guccio ..... John Molloy (bass)
Buoso ..... Peter Curtis (actor)
Orchestra of the Royal Opera House
Antonio Pappano (conductor)
c.2.55pm
Walton: Spitfire Prelude and Fugue
Bruch: Scottish Fantasy
c.3.35pm
Vaughan Williams: Symphony No 5
Tasmin Little (violin)
BBC Philharmonic
Leo Hussain (conductor).
More episodes
Next
You are at the last episode
Music Played
Opera Matinee

BBC Philharmonic
Synopsis
Florence - The house of Buoso Donati
Buoso Donati has died. His attendant family hear a rumour that his fortune hasbeen left to monks. Simone, the eldest, is consulted. If the notary has Donati's willit is hopeless. If the will remains in the room though, there is hope. Rinuccio findsthe missing will. He says he will hand it over if his Aunt Zita will agree to his marriageto Gianni Schicchi's daughter Lauretta. Rinuccio sends Gherardino (son of Gherardoand Nella) to fetch Schicchi and Lauretta. The will is read and the family's worst fearsare confirmed: Donati's wealth belongs to the monks.
However, the will could still be altered. According to Rinuccio only one man canhelp – Gianni Schicchi. The family are disgusted. Schicchi is a peasant, and his daughtercould never be a Donati. Rinuccio resists: Florence is a richer city for men like Schicchi.Schicchi enters and quickly detects the family's difficulties. A row develops betweenSchicchi and Zita, and Schicchi tries to leave. Lauretta intercedes – she will throw herselfinto the Arno if she can't marry Rinuccio.
Schicchi scrutinizes the will and then sends Lauretta to feed the birds. He asks thefamily who else might know that Buoso has died. A knock on the door interrupts theinterrogation – it's Buoso's doctor. The doctor is delighted, and the family astonished,to hear Buoso (in reality, Schicchi) declaring his recovery. The doctor leaves and Schicchioutlines his plan: the notary can be sent for and Schicchi will himself impersonate Buoso.The family are overjoyed and each makes a bid for Buoso's property. They each hopefor the house, the mule and the mills at Signa. A bell tolls. Could this mean Buoso's deathis known? In the panic the family agree that Schicchi should have the final say about thedisposal of Buoso's fortune.
Schicchi is put in disguise and gets into Buoso's deathbed. Before the notary enters,he issues the family a warning. Anyone altering a will suffers the amputation of a handand exile. The family is determined, however, and the notary and witnesses are ushered in.Following some formalities, the family await their reward. Schicchi, however, hasmade his own plans for Buoso's money and for Lauretta and Rinuccio's future happiness…
- With thanks to the Royal Opera House