Main content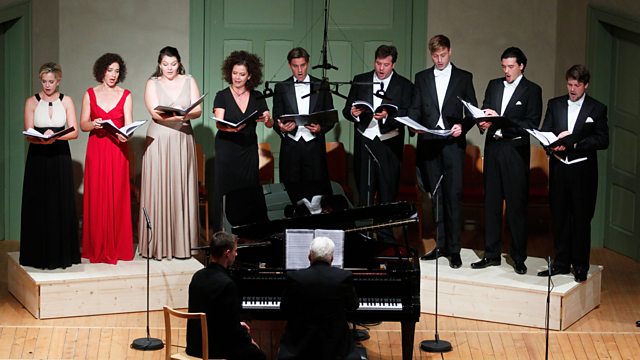 Penny Gore introduces performances of Beethoven's Piano Sonata No 17 and works by Schubert including a selection of his partsongs.
The Hohenems Schubertiade 2015.
Penny Gore introduces concert performances from this leading chamber music festival, founded by the baritone Hermann Prey in 1976 in the small town of Hohenems, in Vorarlberg, the westernmost part of Austria.
Today Igor Levit plays the first of three Beethoven piano sonatas you can hear in this week's programmes, and an all-star cast of singers join forces in Schubert part songs - the beginning of a year-long project to perform all his songs at the Schubertiade.
Schubert: Das Abendrot (Der Abend bluht, der Westen gluht), D236; Das Leben, D269; Im Gegenwätigen Vergangenes, D710
Beethoven: Piano Sonata No 17 in D minor, Op 31 No 2 (Tempest)
Igor Levit (piano)
Schubert: Mondenschein, D875; Coronach, D836; Ständchen, D920
Mojca Erdmann (soprano),
Juliane Banse (soprano),
Angelika Kirchschlager (mezzo-soprano),
Martin Mitterrutzner (tenor),
Maximilian Schmitt (tenor),
Sophie Rennert (contralto),
Benjamin Appl (baritone),
Andrè Schuen (baritone),
David Steffens (bass),
Helmut Deutsch and Graham Johnson (pianos)
Photo of singers and Graham Johnson (c) Schubertiade Gmb 2015.