Main content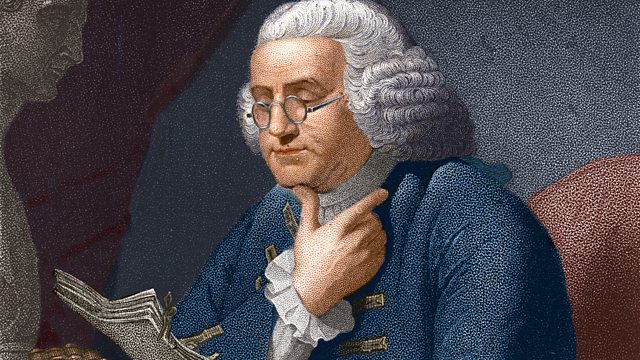 It is 1775, and Franklin is no longer of any political use in London. He becomes ambassador to France in the days before the revolution.
In the middle of the 18th century, Benjamin Franklin spent almost two decades in London - at exactly the same time as Mozart, Casanova and Handel. This is an enthralling biography - not only of the man, but of the city when it was a hub of Enlightenment activity.
For the great majority of his long life, Benjamin Franklin was a loyal British royalist. In 1757, having made his fortune in Philadelphia and established his fame as a renowned experimental scientist, he crossed the Atlantic to live as a gentleman in the heaving metropolis of London.
From his house in Craven Street, he mixed with both the brilliant and the powerful - in London coffee house clubs, at the Royal Society, and on his summer travels around the British Isles and continental Europe. He counted David Hume, Matthew Boulton, Joseph Priestley, Edmund Burke and Erasmus Darwin among his friends - and, as an American colonial representative, he had access to successive Prime Ministers and even the King.
The early 1760s saw Britain's elevation to global superpower status with victory in the Seven Years War and the succession of the young, active George III. This brought a sharp new edge to political competition in London and redefined the relationship between Britain and its colonies. They would profoundly affect Franklin himself, eventually placing him in opposition with his ambitious son William.
Though Franklin sought to prevent the America's break with Great Britain, his own actions would finally help cause that very event.
Episode 5:
It is 1775, and Franklin is no longer of any political use in London. He becomes Ambassador to France in the days before the Revolution.
Written by George Goodwin
Abridged by Barry Johnston
Read by Nickolas Grace
Produced by David Roper
A Heavy Entertainment production for BBC Radio 4.
More episodes
Next
You are at the last episode
Credits
| Role | Contributor |
| --- | --- |
| Reader | Nickolas Grace |
| Author | George Goodwin |
| Abridger | Barry Johnston |
| Producer | David Roper |