Main content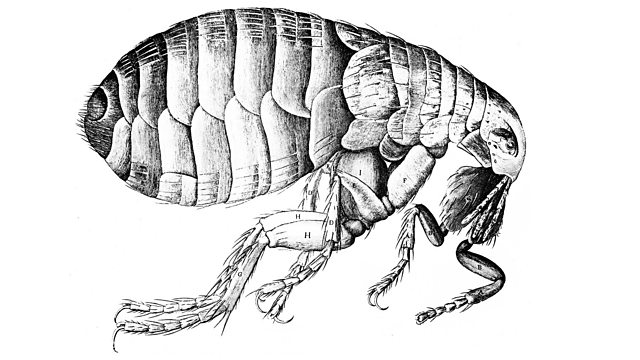 Robert Hooke
Melvyn Bragg and guests discuss Robert Hooke, the 17th-century scientist with a wide variety of interests from elasticity to microscopes who fell out with Newton.
Melvyn Bragg and guests discuss the life and work of Robert Hooke (1635-1703) who worked for Robert Boyle and was curator of experiments at the Royal Society. The engraving of a flea, above, is taken from his Micrographia which caused a sensation when published in 1665. Sometimes remembered for his disputes with Newton, he studied the planets with telescopes and snowflakes with microscopes. He was an early proposer of a theory of evolution, discovered light diffraction with a wave theory to explain it and felt he was rarely given due credit for his discoveries.
With
David Wootton
Anniversary Professor of History at the University of York
Patricia Fara
President Elect of the British Society for the History of Science
And
Rob Iliffe
Professor of History of Science at Oxford University
Producer: Simon Tillotson.
The Natural History Heroes who inspired today's scientists.
LINKS AND FURTHER READING
Robert Hooke – Oxford Dictionary of National Biography
Micrographia text – Project Gutenberg
Cutlerian Lectures by Robert Hooke (published 1679) including his texts Helioscopes, Lampas, Microscopium and Cometa
Lampas by Robert Hooke (published 1677) - Text Creation Partnership 
A Description of Helioscopes and Some Other Instruments by Robert Hooke (published 1676)
'The return of the Hooke folio' by Robyn Adams and Lisa Jardine – The Royal Society Journal of the History of Science
'England's Leonardo' by Allan Chapman
The Posthumous Works of Robert Hooke by Richard Waller
Newton's letters including letters to Hooke (most interestingly 18th November 1672) 
Memoirs of the Life, Writings and Discoveries of Sir Isaac Newton by David Brewster (published 1855)
READING LIST:
Jim Bennett, Michael Cooper, Michael Hunter and Lisa Jardine, London's Leonardo: The Life and Work of Robert Hooke (Oxford University Press, 2003)
Thomas Birch, History of the Royal Society of London (Gale ECCO, 2010)
Allan Chapman, England's Leonardo: Robert Hooke and the Seventeenth-Century Scientific Revolution (CRC Press, 2004)
Michael Cooper, A More Beautiful City: Robert Hooke and the Rebuilding of London After the Great Fire (Sutton Publishing Ltd, 2003)
Margaret Espinasse, Robert Hooke (University of California Press, 1962)
Robert Gunther, Oxford and the History of Science (Oxford University Press, 1934)
Robert Hooke (eds. Henry W. Adams and Walter Robinson), The Diary Of Robert Hooke (Taylor, 1935)
Stephen Inwood, The Man Who Knew Too Much: The Strange & Inventive Life of Robert Hooke 1635-1703 (Macmillan, 2002)
Lisa Jardine, The Curious Life of Robert Hooke: The Man Who Measured London (HarperCollins, 2003)
David Wootton, The Invention of Science: A New History of the Scientific Revolution (Allen Lane, 2015)
Credits
| Role | Contributor |
| --- | --- |
| Presenter | Melvyn Bragg |
| Interviewed Guest | David Wootton |
| Interviewed Guest | Patricia Fara |
| Interviewed Guest | Robert Iliffe |
| Producer | Simon Tillotson |
Featured in...
Browse the 17th Century era within the In Our Time archive.

Scientific principles, theory, and the role of key figures in the advancement of science.