Main content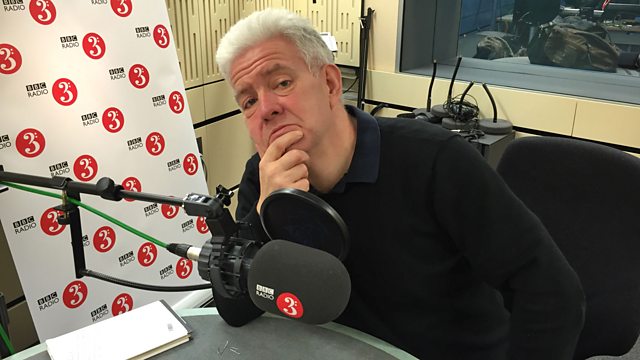 Wednesday - Rob Cowan with Ian McMillan
With Rob Cowan. Including My Favourite Old-School Cellists; Music in Time: Thomas Ades: Asyla; Artist of the Week: Daniel Harding, conducting Schumann: Goethe's Faust (excerpts).
9am
My favourite... old-world cellists. Rob delves into the archives of great cellists from the past, including recordings by Maurice Gendron, Daniil Shafran, Gregor Piatigorsky, Emanuel Feuermann and Paul Tortelier, in repertoire by Fauré, Beethoven and Haydn.
9.30am
Take part in our daily musical challenge: identify a piece of music played backwards.
10am
Rob's guest this week is the poet, playwright, and broadcaster Ian McMillan. Well known for presenting Radio 3's The Verb, and for his strong Barnsley accent, Ian is a popular performance poet who tours the country with his poetry shows. The most recent of his many books, Neither Nowt nor Summat: In Search of the Meaning of Yorkshire, is an exploration of his beloved home county. Ian will be talking about his life and poetry, and sharing a selection of his favourite classical music, every day at 10am.
10:30am
Rob places Music in Time. Rob heads to the disco to discover how clubbing music influenced the Modern composer Thomas Adès's orchestral work Asyla.
11am
Rob's artist of the week is the conductor Daniel Harding. Harding was the protégée of Simon Rattle in his youth and first conducted the Berlin Philharmonic when he was just 21 years old. He went on to have great success, both at home and abroad, and especially in Germany, developing a special enthusiasm for Romantic and 20th-century repertoire. Throughout the week Rob explores Harding's interpretations of works including Beethoven's Third Piano Concerto, Mahler's Sixth Symphony and Scenes from Goethe's Faust by Schumann.
Schumann
Scenes from Goethe's Faust: Faust's Transfiguration
Christiane Karg (soprano)
Mari Eriksmoen (soprano)
Bernarda Fink (mezzo)
Andrew Staples (tenor)
Christian Gerhaher (baritone)
Alastair Miles (bass)
Tareq Nazmi (bass)
Kurt Rydl (bass)
Bavarian Radio Chorus and Symphony Orchestra
Daniel Harding (conductor).
Music Played
My favourite... old-world cellists

Ian McMillan's Choice No. 1

Ian McMillan's Choice No. 2

Music in Time: Modern

Artist of the week: Daniel Harding
Recording Rewind
The music played:
Prokofiev
March (The Love for Three Oranges)
London Symphony Orchestra
Antal Dorati (conductor)
MERCURY LIVING PRESENCE