Main content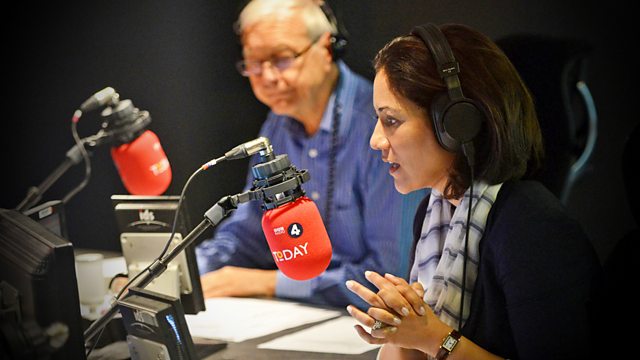 15/02/2016
Morning news and current affairs. Including Sports Desk, Weather and Thought for the Day.
Clips

Today's running order
0650
Civilian casualties from the fighting in Afghanistan rose last year to the highest level recorded.  According to UN figures, three-and-a-half-thousand civilians were killed; seven-and-a-half-thousand were injured. Speaking live on the programme is Michael Semple professor at the Institute for the Study of Conflict Transformation and Social Justice at Queen's University Belfast.
0655
Schools in urban areas of the Midlands are doing a better job in helping disadvantaged children to achieve than those in the more idyllic rural areas. Speaking live on the programme is professor Sonia Blandford chief executive officer of education at charity Achievement for All.
0710
Britain's biggest bank HSBC has confirmed it is to keep its headquarters in London after concluding a review into a potential move that could have shifted the group's base to Hong Kong. Speaking live on the programme is BBC's Kamal Ahmed and HSBC chairman Douglas Flint.
0715
President Obama urged Russia yesterday to stop bombing so called "moderate" rebels in Syria in support of its ally Bashar al-Assad. Speaking live on the programme is Former UN under-secretary-general for humanitarian affairs and emergency Baroness Amos.
0720
Did the Pope have a lover? We're talking about the last but one pope - John Paul II - and the question has been raised because the BBC's Panorama programme has uncovered hundreds of letters that tell the story of his close relationship over the years to a married woman. Speaking live in the studio is BBC's Edward Stourton.  
0730
The NHS in England is failing most of its psychiatric patients. That's the stark finding of a major review of mental health services. Speaking live on the programme is Natalie Mounsey a 20 year old student at Durham University – treated for anorexia and Chief Executive of mental health charity MIND and chair of independent mental health Taskforce Paul Farmer.
0740
An investigation is underway to find out why a car carrying a British band smashed into a road barrier in Sweden on Saturday.  Viola Beach were rising stars of the British music scene. BBC's Anna Holligan reports.
0750
For many young people, sexting is becoming an increasingly common part of relationships. But how far is the law keeping up? Speaking live in the studio is head of policy at the charity the NSPCC Alan Wardle.
0810
Sir John Vickers has warned that the future safety of Britain's banks is at risk and has said that Bank of England proposals are not strong enough. He says banks need more capital because no-one can predict the nature or scale of the next shock to the system. Speaking live in the studio is chair of the UK's Independent Commission on Banking Sir John Vickers.
0820
The 2016 Bafta Film Awards took place in London last night. Speaking live on the programme is BBC's arts editor Will Gompertz and British screenwriter of Bridge of Spies Matt Charman.
0840
A flight heading to New York turned back to London Heathrow Airport after a "laser beam incident", Virgin Atlantic has confirmed. A crew member is recorded saying to Irish air traffic control that they had a "medical issue with one of the pilots after a laser incident after take-off". BBC's Nick Quaraishi reports.


0850
Thin Lizzy were one of the most famous bands of the 1970s with hits like The Boys are Back in Town and Dancing in the Moonlight. They were led by the flamboyant and charismatic Phil Lynott who's often described as Ireland's first rock star. He died in 1986 and to mark the 30th anniversary of his death there's a new biography of his pretty extraordinary life and career. BBC's Rebecca Jones reports.
0855
The Church of England has been accused of "trolling" after using its official Twitter page to say it is praying for Professor Richard Dawkins, the outspoken atheist who recently suffered a stroke. Speaking live on the programme is director of communications for Church of England Rev Arun Arora.
All subject to change.