Main content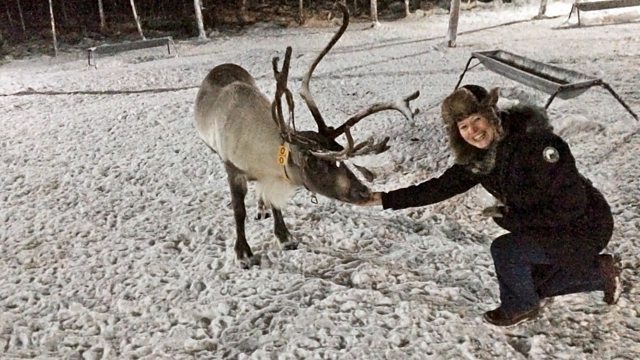 Reindeer Farming in Sweden
Nils Nutti Sami has worked with reindeer all his life and is now inspiring young Sami and Swedes to follow him in this traditional way of life. Helen Mark meets him in Jukkasjarvi.
The indigenous people of northern Sweden are the Sami and their nomadic lifestyle has traditionally centred around the reindeer, both as a means of transport and for food and clothing. Today the Sami are no longer nomadic but many like Nils Nutti Sami want to continue to work with their reindeer. Nils has found a unique solution to the problem of meeting his family's need for money now that they live in a settled place whilst continuing to work with his beloved reindeer.
At the reindeer corral these semi-domesticated animals are used to take tourists on sleigh rides and to teach them about the Sami way of life. This means that the reindeer are of greater value and allows Nils to encourage young Sami and even non-Sami like Klara Enbom Burreau to continue with this traditional way of life in a sustainable way.
The Sami use every part of the reindeer for meat, blood sausages, fur and hide and as Helen Mark discovers, this relationship continues to sustain the Sami culture with its deep respect for nature.
Producer: Helen Lennard.
Last on
Broadcast