Main content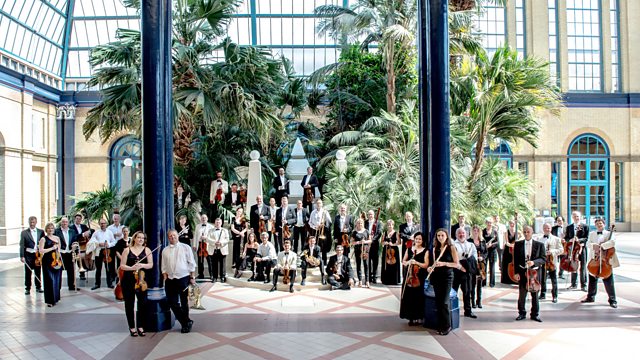 Gilbert O'Sullivan
Friday Night is Music Night - Gilbert O'Sullivan with the BBC Concert Orchestra.
Friday Night is Music Night - Singer-songwriter Gilbert O'Sullivan joins forces with the BBC Concert Orchestra for a special concert of his greatest hits.
The 1970s fed us a musical diet of pop, disco and Osmondmania before the decade exploded into the punk revolution. And amongst it all were a team of singer-songwriters who sat at a piano and played and sang their songs - the leader was Elton John, then there was Barry Manilow , Billy Joel and then there was Gilbert O'Sullivan.
Born Raymond O'Sullivan in Waterford, Ireland but brought up in Swindon. He attended art college and played drums in a band called Rick's Blues headed by fellow Swindonian Rick Davies. Rick was later to form Supertramp but before he did he taught Ray to play the piano. Ray left Swindon and went to London to work as a postal clerk. But his burning ambition was to be a songwriter. "I write pop songs. End of story. That's all I wanted to do. That's all I want to do and that's all I continue to want to do." Success came when he sent some demos to Gordon Mills manager of Tom Jones and Engelbert Humperdinck. Mills hated Ray's image - a shy youth with a pudding basin hair cut, short trousers, hobnail boots and a cloth cap - but he did recognise a uniqueness amongst all the glam rock of the day - and above all recognised his song writing ability - beautiful melodies with witty, kitchen sink lyrics. Ray's name was changed to Gilbert O'Sullivan and he signed up to Gordon Mills label MAM.
His first top ten hit came in late 1970 with Nothing Rhymed and for the next 5 years Gilbert dominated the British and European charts with a string of hits along the likes of We Will; No Matter How I Try; Alone Again(Naturally); Ooh Wakka Doo Wakka Day; Clair; Get Down; Why Oh Why Oh Why and What's in a Kiss? Alone Again(Naturally) topped the US charts and was nominated for a Grammy Award. In the UK he was awarded 3 Ivor Novello Awards - including one for Song writer of the Year in 1973. He was at the top of his game. And then things turned sour. A long an laboured legal case against his manager Gordon Mills about the share of publishing rights on his songs meant Gilbert didn't release a record for 5 years. In a landmark case the court awarded in flavour of Gilbert in a case that has since set a precedence in performers publishing rights within the music industry. It wasn't to be the only time Gilbert stood in a court room to defend performers rights. In 1991 he took to task Rapper Biz Marker who had sampled one of Gilbert's songs without his permission.
Tonight - Gilbert gives a very special performance with the BBC Concert Orchestra conducted by Laurie Holloway. The presenter is Ken Bruce.
First broadcast in February this year.