Main content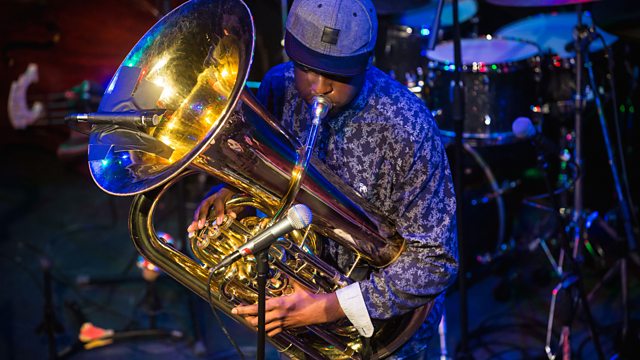 Theon Cross Trio
Young British tuba player and Sons of Kemet lynchpin Theon Cross performs with his new trio at the 2015 London Jazz Festival.
Jez Nelson presents young British tuba player Theon Cross performing with his new trio at the Rich Mix as part of the 2015 London Jazz Festival.
A graduate of London's Guildhall School of Music, where he was taught by tuba virtuoso Oren Marshall, Cross has quickly made a name for himself laying down heavy grooves as part of West Indian-inspired four-piece Sons of Kemet, marching band-influenced octet Brass Mask and trad jazz outfit the Kansas Smittys.
His own compositions, featured on debut EP Aspirations, draw on many of the same influences, bringing them up to date with an injection of swaggering electro-funk whilst leaving room for the rest of the trio - MOBO Award-winning drummer Moses Boyd and saxophonist Nubya Garcia - to shine.
Theon Cross
Picture Credit: Emile Holba / EFG London Jazz Festival