Main content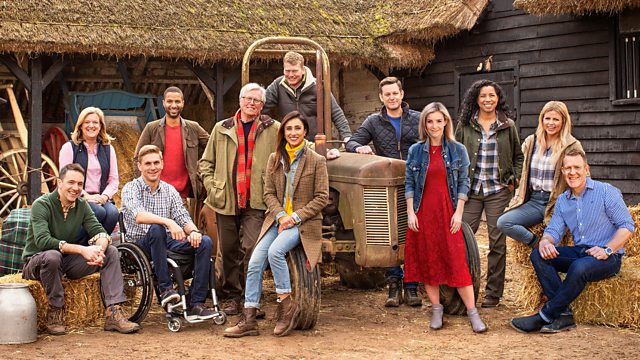 Winter Special
The team pull on their thermals for a walk on the wild side of winter. Adam heads to North Ronaldsay, where their rare seaweed-eating sheep are under threat.
Pull on your thermals, grab your gloves and join us for a walk on the wild side of winter. Matt visits Tom and Kay Hutchinson, currently in the grip of winter on their hill farm in Teesdale. As Matt helps out with the day-to-day tasks, he hears about Tom's passion for farming and his never-ending ambition to breed the perfect sheep. They are a fascinating family whose lives caught the eye of a farmer's daughter turned film director - making the Hutchinsons unlikely film stars in her documentary Addicted to Sheep.
Ellie is in Gloucestershire getting a bird's-eye view of one of wildlife's greatest wonders - winter migration. At Slimbridge Wetlands Centre, she prepares dinner for more than 1,000 over-wintering birds! She also gets cheek to beak with some greylag geese in flight.
John is going for a wild woodland walk in Cumbria - with two hybrid wolves. John learns how they are perfectly adapted for winter with webbed feet and hollow fur fibres - like a polar bear. Far from the fairy-tale villains chasing anyone in a red hood, these are highly intelligent and social animals worthy of our respect.
Sean tries his hand at winter cod fishing off the wild North Yorkshire coast - though it is him that takes a battering more than the cod.
And Adam's on North Ronaldsay in Orkney, where their rare seaweed-eating sheep are under threat. Years ago, he visited with his dad to help save the North Ronaldsay breed from extinction - but wild winter storms mean they have suffered further setbacks.
A Winter's Dale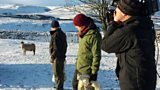 The winter of 1947 was one of the coldest on record in the UK. The North Pennines AONB Partnership wanted to preserve memories of those hard, bygone winters so set about interviewing the elderly locals who remembered them - and created an oral history archive called 'A Winter's Dale'. Matt Baker meets Maurice Tarn, a retired farmer who experienced the winter of 1947. Then Matt visits a family currently in the grip of winter on their hill farm. Tom and Kay Hutchinson spend their days looking after their beef herd and flock of prized Swaledale sheep. Their three children Jack, Esme and Hetty help out too. As Matt discovers, they're a fascinating family whose lives caught the eye of a farmer's daughter turned film director.
Winter wildlife wonders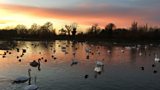 Every year millions of wild birds escape the bitter winters of their breeding grounds, travelling across the world to warmer climates – and thousands of them come to the Slimbridge Wetland Centre. This year the centre has had its earliest-ever arrival of a Siberian swan – which traditionally heralds the start of the season. Ellie Harrison spends a day with the Slimbridge team who are preparing the wetlands for the influx of migrating visitors. She floats out across the wetlands and meets people conserving the land so it's just right for the winter visitors. Armed with a wheelbarrow and some keeper's gloves, Ellie dishes up a floodlit feast for 2,500 dinner guests.
Training for the Arctic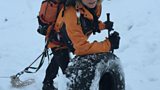 We follow Arctic explorer Rosie Stancer on her own personal journey, from the warmth of her Wiltshire farmhouse to the wilds of the Highlands. But it's not just the beauty of the wintry Cairngorms that keeps Rosie coming back – it's also her training ground. A cross between Tinkerbell and The Terminator, Rosie is a woman who likes to embrace the full force of winter both on home turf and beyond. She's already conquered the Antarctic – now she's training to take on the Arctic. In March 2017, she aims to become the first woman in history to walk solo from Canada to the North Pole. 
Walking with wolves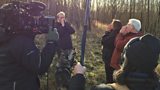 More than 500 years ago wolves still inhabited the British Isles. But hunting and loss of habitat meant this remarkable predator disappeared from our landscape. John Craven meets Cumbrian couple Dee and Daniel Ashman who run a predator experience business in the Lake District. For three years the couple have owned a pair of hybrid wolves - two brothers called Maska and Kajika. John joins them on a wolf walk where he learns the intricacy of social ranking and the subtle art of canine communication. Will John have what it takes to become part of the wolf pack? 
Farming on the edge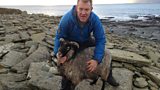 Adam Henson is returning to one of his favourite places - North Ronaldsay in Orkney. But all is not well, as winter storms have devastated the island's famous sheep dyke. Built in 1832 the dyke was designed to keep the native sheep on the beach.  The sheep have now evolved to live solely off seaweed but, with large sections of the dyke now destroyed, the remaining islanders face a huge task to rebuild it and safeguard the future of their sheep.
Edgelands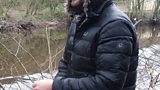 Nature writer Rob Cowen draws inspiration for his work from the 'edgelands' of Harrogate - the patches of wilderness between town and country. These small areas can be easily overlooked but he believes they can help us connect with nature and find solitude on the edge of urban life. As Rob says - "Winter may be cold and cruel - but look hard enough – and there is beauty in the bleak."
Winter rock fishing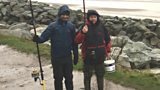 Rock fishing is one of the best ways to catch cod on the North Yorkshire coast. Sean Fletcher joins Glen Kilpatrick and a group of hardy fishermen on their trek to find the best spot – and hopes to learn the secrets of their success. One of Glen's fishing fraternity also happens to work in one of the best fish restaurants in Whitby, so – if they can catch some cod – Sean's been promised a hearty fish supper!
Addicted to Sheep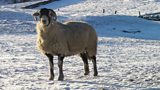 Matt's still on the Hutchinson family farm in the tough Upper Teesdale landscape, going about the daily farming duties with son Jack and daughters Hetty and Esme. To Mum, Dad and the kids these are normal daily duties but, to most people, it's pretty extreme. So much so, that a film director was inspired to make an observational documentary about them. Growing up on a farm in the flat landscape of Brittany, the notion of hill farming was alien to Magali Pettier. She followed the Hutchinsons throughout the seasons, aiming to bring farming to the big screen and maybe even change the general public's perception of agriculture.
Addicted to Sheep, specially adapted for television, will be broadcast on February 8th at 9pm on BBC Four
Wild goose chase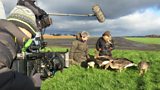 As Ellie's migratory journey comes to its end, she travels to the heart of the Cotswolds to meet Rose Buck, a women who has devoted her life to studying bird behaviour and instincts. Ellie is introduced to her family of greylag geese and discovers the technique of 'imprinting' - a natural and instinctive form of learning. Then its Ellie's turn to experience one of nature's most recognisable sights and see first-hand one of the greatest wonders of the animal world.
Credits
| Role | Contributor |
| --- | --- |
| Presenter | Matt Baker |
| Presenter | Ellie Harrison |
| Presenter | John Craven |
| Presenter | Sean Fletcher |
| Presenter | Adam Henson |
| Executive Producer | William Lyons |
| Series Producer | Joanna Brame |