Main content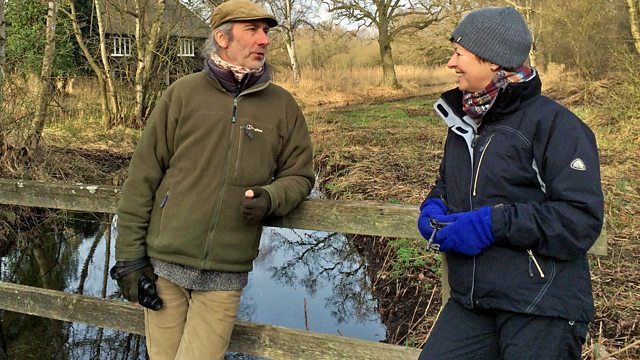 Return to the Fens
Helen Mark visits the Great Fen in Cambridgeshire with writer Simon Barnes to find the roots of conservation and new discoveries about how man has lived in these wetland habitats.
In the final episode of this series Helen Mark visit Woodwalton Fen in Cambridgeshire with writer Simon Barnes to discover the lost landscape which inspired Charles Rothschild to draw up the Rothschild list. This list of wild places in need of preservation helped establish modern conservation ideas and in 1912 Rothschild established the Society for the Promotion of Nature Reserves for Britain and the Empire, the first society in Britain concerned with protecting wildlife habitats.
Today the bungalow on stilts which Rothschild built lies at the heart of the Great Fen. This 50 yearlong project aims to join another early nature reserve at Holme Fen to Woodwalton by creating a mosaic of wetland habitat. Helen finds out how this vision is already attracting wonderful wildlife and how the long term residents of the fens are now enjoying a growing appreciation of the landscape they love.
With a changing climate the fens offer natural solutions to flooding and nearby at Must Farm archaeologists have recently discovered how Bronze Age man embraced a watery landscape and thrived. In the future the Great Fen hopes it too can offer man viable alternatives to drainage which are beneficial for all the fen inhabitants.
Last on

Broadcasts

Podcast
Countryside magazine featuring the people and wildlife that shape the landscape of Britain