Main content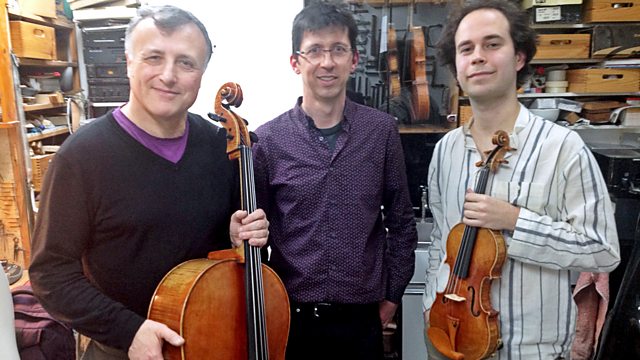 The Instrument Makers
Verity Sharp meets three people dedicated to making beautiful musical instruments. As they work she hears what led them to this, about the economics, and listens to their wares.
Musical instrument making is a vibrant craft industry in Britain today. The great cellist Raphael Wallfisch plays a cello by Andreas Hudelmayer of Clerkenwell. Want a handmade, yet affordable, guitar? Victoria Hurley, in Orpington, can build you one. In Redhill, Christopher Bayley combines engineering and acoustics to create the sophisticated chamber instrument of Ireland, the uillean pipes. Adam Doughty makes West African koras, in Wales.
Verity Sharp, a cellist herself, hears from these makers in their workshops as each goes about their business: Andreas, at the highest end of the western classical music tradition; Victoria, who works on the world's most popular instrument; Christopher and Adam whose instruments might seem niche, but are sold all over the globe.
Interesting questions arise: classical players favour venerable instruments, violins by Stradivarius. But techniques and the understanding of acoustics have improved. Might modern instruments, then, be better than the old ones? Raphael Wallfisch explains why he loves his cello and duets with the Belgian violinist, Jens Lynen, who has come to try out a new fiddle, in Hudelmayer's workshop it. Factories all over the world churn out guitars, so how does Victoria Hurley, compete. Clients come to makers with different requirements so is the instrument evolving? How can Christopher Bayley realise players' wishes in the wood, metal, leather and reeds of his pipes? And how did Adam Doughty come to learn to play and make the kora?
The instrument maker's vocation is almost monastic - contemplative, laborious and forever seeking perfection. Verity hears their stories, and the music of the amazing instruments they create.
Producer: Julian May
Last on

String player Verity Sharp discusses how folk fiddlers gave her a way in to the genre.
Broadcasts