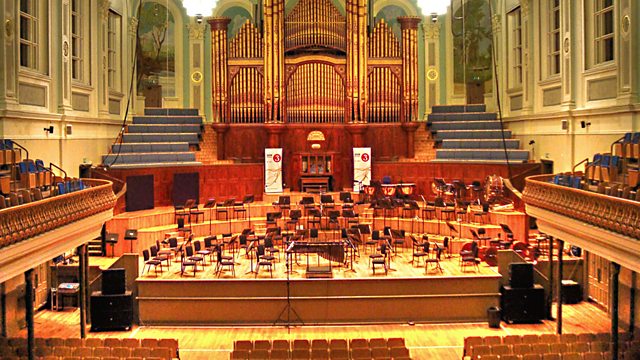 BBC SSO - Glinka, Shostakovich, Mussorgsky
Vassily Sinaisky and the BBC SSO perform Mussorgsky's Pictures from an Exhibition and are joined by Boris Brovtsyn for Shostakovich's Violin Concerto No 1.
Live from the Music Hall, Aberdeen.
Presented by Jamie MacDougall
Glinka: Valse-fantasie
Shostakovich: Violin Concerto No 1
8.15 Interval
8.35
Mussorgsky/Ravel: Pictures from an Exhibition
An all Russian concert live from the historic Music Hall, in Aberdeen. Vassily Sinaisky, one of Russian music's most renowned interpreters, joins the BBC Scottish Symphony Orchestra in a concert which opens with Glinka's balletic Valse-fantasie: his short piano piece which went on, in orchestral form, to inspire choreography by George Balanchine.
The virtuoso Russian violinist Boris Brovtsyn is the soloist in Shostakovich's Violin Concerto No 1, that composer's 1948 work which became a victim of Soviet censorship. A wide-ranging musical narrative: from its mysterious 'Nocturne' opening, to its boisterous finale.
And the concert concludes with a piece by another unorthodox Russian, Modest Mussorgsky. His 'Pictures from an Exhibition' began life as a piano work, and went on to be better known in these seductively colourful orchestrations by Ravel. First written in 1874 the boldly original musical movements - echoing, at times, Russian folk melodies - depict the works of Russian painter Viktor Hartmann, including the 'Ballet of the Unhatched Chicks in their Shells' and the famous 'Great Gate of Kiev.'
Followed by a glimpse into Adopt a Composer - Making Music's scheme pairing composers with performing groups from around the country.
Tonight, the Strathaven Choral Society works on Mark Carroll's Shame, Shame, he Dies for his Country.
Last on