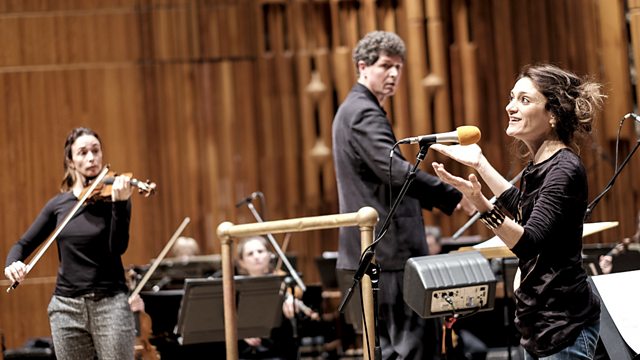 Britten Sinfonia - Martland, Reich, Andriessen
Britten Sinfonia, conducted by Clark Rundell, performs works by Steve Martland, Steve Reich and Louis Andriessen at the Barbican Hall in London, as part of the Barbican Centre's 'Andriessen: M is for Man, Music & Mystery' series celebrating the work of the influential Dutch composer. Presented by Martin Handley.
Colourful textures, vivid sonorities and propulsive energy ignite in a concert that focuses Andriessen and two further 'minimalist' composers: Steve Reich and Andriessen's former pupil Steve Martland.
Expect pulsating, playful rhythms and melodic sequences, grand sensuous sound and impassioned expressiveness in a programme that includes Andriessen's song cycle, La Passione, written in 2002 for featured soloists and close collaborators mezzo-soprano Cristina Zavalloni and violinist Frederieke Saeijs.
Martland: Tiger Dancing
Steve Reich: The Desert Music
8.35 Interval
Louis Andriessen: La Passione
Cristina Zavalloni (mezzo-soprano)
Frederieke Saeijs (violin)
Britten Sinfonia Voices
Britten Sinfonia
Clark Rundell (conductor)
Followed by a glimpse into Adopt a Composer - Making Music's scheme pairing composers with performing groups from around the country.
Tonight, the Arden Recorder Orchestra works on Kirsty Devaney's As if on a Pivot.
Last on
Highlights from the BBC Symphony Orchestra's Total Immersion day.

Highlights from the BBC Symphony Orchestra's Total Immersion day.
Louis Andriessen's La Commedia
Louis Andriessen's La Commedia