Main content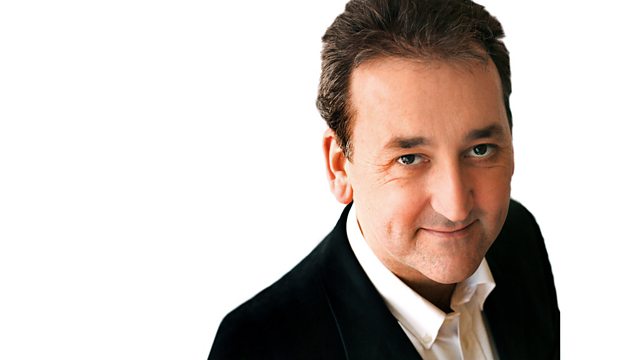 Ian Skelly presents a Royal Opera House performance from 2011 of Puccini's Suor Angelica, the second part of Il Trittico. Starring soprano Ermonela Jaho and Anna Larsson.
Ian Skelly presents Puccini's Suor Angelica, the second part of his triple bill of one-act operas, recorded at the Royal Opera House in 2011. It is set in a convent where Suor Angelica, sung by Ermonela Jaho, has been banished for having an illegitimate child. Next week: Gianni Schicchi.
Puccini: Suor Angelica
Suor Angelica ..... Ermonela Jaho (Soprano)
La Zia Principessa ..... Anna Larsson (Mezzo-soprano)
La Suora Zelatrice ..... Elena Zilio (Mezzo-soprano)
Maestra Delle Novizie ..... Elizabeth Sikora (Mezzo-soprano)
Suor Genovieffa ..... Anna Devin (Soprano)
Nursing Sister ..... Elizabeth Woollett (Soprano)
Le Cercatrici .... Gillian Webster (Soprano)
Royal Opera House Chorus and Orchestra
Conductor Antonio Pappano
Followed by a concert from the BBC Scottish Symphony Orchestra, recorded last November.
3pm:
Mozart: Symphony no. 29 in A major, K.201
BBC Scottish Symphony Orchestra
Markus Stenz (conductor)
3.20pm:
Haydn: Piano Concerto in D major, H.18.2
Ronald Brautigam (piano)
BBC Scottish Symphony Orchestra
Markus Stenz (conductor)
3.40pm:
Schumann: Symphony No. 2 in C major, Op.61
BBC Scottish Symphony Orchestra
Markus Stenz (conductor).
Music Played
Opera Matinee

BBC Scottish Symphony Orchestra
Synopsis
A convent.
Nuns are talking together after their evening penances. The Monitress and the Mistress of the Novices assign special penances to Sister Lucilla, who laughed in chapel, and to Sister Osmina, who was hiding two red roses in her habit. Sister Genovieffa sees that the evening sun has turned the water of the chapel fountain gold, and the nuns are reminded that a year has passed since the death of Sister Bianca Rosa. They discuss what they most miss from their past lives. Sister Angelica denies that she has any desires, but the others agree that this has to be untrue – she secretly longs for news of her noble family.
A sister enters, and asks Sister Angelica to help her cure a nun who has been stung by wasps. Sister Angelica, who is skilful in making remedies, prepares a cure. Two sisters enter and distribute food. One of them mentions that she has seen a carriage approaching, and Sister Angelica becomes agitated, hoping for a visit from one of her family.
The Abbess enters and informs Sister Angelica that she has a visitor. It is Angelica's aunt, the Princess, who greets her niece coldly. She has come to ask Sister Angelica to sign away her share of her parents' property to her younger sister Anna Viola, who is to be married. The Princess reminds Sister Angelica of the shame she has brought on her family by giving birth to a son outside marriage and commands her to repent. Sister Angelica assures her aunt that she is penitent, but begs her for news of the boy. The Princess informs Angelica that her son died of a fever two years ago. Angelica collapses. The Princess puts a document in front of her niece, then leaves with it signed.
Angelica pours out her grief for her dead son. The other nuns assume the visit has fulfilled Sister Angelica's only desire, and that she is blessed and now happy. Angelica has decided to commit suicide. She prepares and takes poison. Immediately, she is overcome with guilt at having committed a mortal sin and prays for salvation. Angelica sees the Virgin Mary and her son as she dies.
- With thanks to the Royal Opera House, Covent Garden