Main content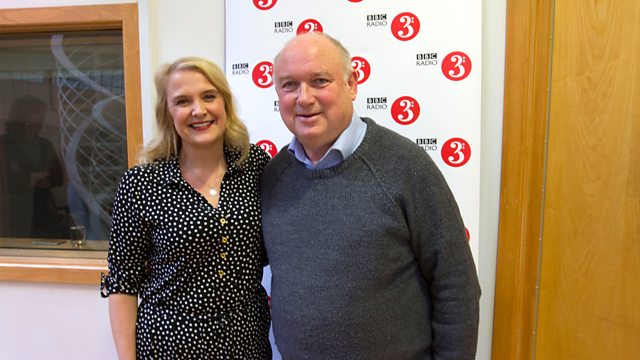 Thursday - Sarah Walker with Louis de Bernières
With Sarah Walker. My Favourite American Songs; Music in Time: Rameau's Hippolyte et Aricie; Artists of the Week: Brodsky Quartet, featured in Debussy's String Quartet in G minor.
9am
My favourite... American songs. Ranging from expressions of personal faith and childlike innocence to celebrations of American landscapes and jazz, Sarah chooses a handful of her favourite songs written by American composers including Aaron Copland, Leonard Bernstein, Samuel Barber and George Gershwin.
9.30am
Take part in our daily musical challenge: can you remember the television show that featured this piece of classical music?
10am
Sarah's guest this week is the author Louis de Bernières. Well known for his worldwide bestselling tale of love and war Captain Corelli's Mandolin, Louis's other works include the acclaimed Birds Without Wings and A Partisan's Daughter, as well as collections of poetry and short stories. His latest major novel, The Dust That Falls From Dreams, the first instalment of a family saga that opens with the end of the Victorian era, was released last year. Louis is also a keen musician and plays the flute, the guitar and, of course, the mandolin. Louis will be talking about his life and his writing, and sharing a selection of his favourite classical music with Sarah, every day at 10am.
10:30am
Sarah places Music in Time as she turns to the Baroque period and Rameau's Hippolyte et Aricie, an opera which helped to define the musical philosophy of the time.
11am
Sarah's Artists of the Week are the Brodsky Quartet, named after the dedicatee of Tchaikovsky's Violin Concerto, Adolf Brodsky. The Brodskys are known for their insatiable desire to explore and expand the string quartet repertoire. Throughout the week Sarah showcases the quartet's passion for 'all good music' as she features their interpretations of classic quartets by Dvorak, Verdi, Debussy and Britten, as well as rare masterpieces by Respighi, Panufnik and Delius.
Debussy
String Quartet in G minor
Brodsky Quartet.
Music Played
MY FAVOURITE... AMERICAN SONGS

LOUIS DE BERNIERES' CHOICE NO. 1

LOUIS DE BERNIERES' CHOICE NO. 2

MUSIC IN TIME: BAROQUE

ARTISTS OF THE WEEK: THE BRODSKY QUARTET
Heard on Screen
Answer: Monty Python's Flying Circus
The music played:
Sousa
The Liberty Bell  
Eastman Wind Ensemble
Frederick Fennell (conductor)
MERCURY