Main content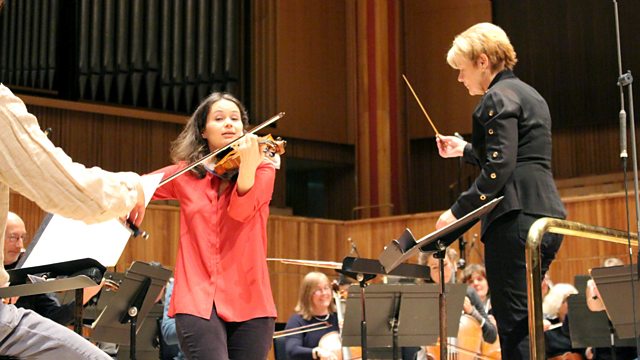 Orchestra of the Age of Enlightenment
Marin Alsop conducts the Orchestra of the Age of Enlightenment. Brahms: Variations on a Theme by Haydn. Schumann: Violin Concerto in D minor; Symphony No 3 in E flat (Rhenish).
As part of their series 'Marin, Madness and Music', Marin Alsop conducts the period instrument Orchestra of the Age of Enlightenment in Brahms and Schumann. The personal tragedy of Robert Schumann's life-long mental illness drove him to attempt suicide, after which he spent the final years of his life in a mental asylum, unable even to recognise his wife, Clara. But despite, or perhaps because of his condition he wrote wrote some of the greatest music of the 19th century including the heroic 3rd symphony. Inspired by a trip with his wife to the Rhineland, the 'Rhenish' symphony portrays some of the sights they saw including the surging Rhine and the glowing stained glass of Cologne Cathedral.
Schumann's violin concerto languished in a library with the stipulation that it should not be performed until his centenary in 1937, when it was championed by Yehudi Menuhin, among others; tonight's soloist is the versatile, intense and compelling Patricia Kopatchinskaja. And it was while Schumann was writing this work that he was first introduced to Brahms, who became such an important figure in Clara's life, and the concert begins with Brahms's St Anthony Variations.
Presented by Petroc Trelawny and recorded last Saturday.
Brahms: Variations on a Theme by Haydn 'Saint Anthony Variations,' Op. 56a
Schumann: Violin Concerto in D Minor, WoO 23
Schumann: Symphony No. 3 In E Flat Op.97 'Rhenish'
Patricia Kopatchinskaja (violin)
Orchestra of the Age of Enlightenment
Marin Alsop (conductor)
Followed by a glimpse into Adopt a Composer - Making Music's scheme pairing composers with performing groups from around the country.
Tonight, the Kensington Symphony Orchestra works on Seán Doherty's Hive Mind.