Main content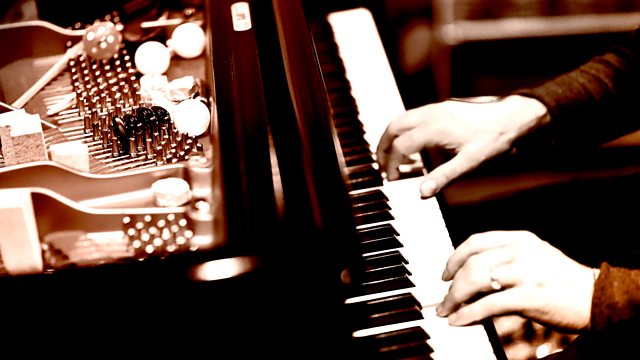 Hands
With music from Michael Tippett, Puccini and Chopin, plus words from Dickens, Donne, Mary Cornish and Helen MacDonald read by Imogen Stubbs and Simon Shepherd.
Imogen Stubbs and Simon Shepherd read a selection of poetry and prose exploring the way our hands, as much anything, distinguish us from all animals; even other primates cannot match us for dexterity or the handling of tools and instruments. There are few activities either in the practicality of everyday life or the creative process where hands are not involved - from making and mending to painting, writing or playing an instrument. They are also a vital means of communication, but equally they can be violent and destructive.
This edition of Words and Music explores the various roles our hands play as expressed in music from Handel, Steve Reich, Sir Michael Tippett, Puccini, Janacek and Bill Withers, with poetry from Shakespeare, John Donne, Seamus Heaney, Wendy Cope, Mary Cornish, Ruth Padel and Michael Rosen and prose from Dickens and Helen MacDonald.
Producer: Harry Parker
Scroll down the webpage for more information about the music used, and the Producer's Notes.
Last on
Music Played
Timings (where shown) are from the start of the programme in hours and minutes
00:00

C. F. Abel

Symphony No. 3 in E flat Major K.18

Performer: Northern Chamber Orchestra, conductor Nicholas Ward.

Omar Khayyam

The Rubaiyat, read by Simon Shepherd

00:03

Scriabin arr. Artur Cimirro

Étude Op.8 No.12

Performer: Nicholas McCarthy.

Warner Classics 0825646052400.
Tr9.

00:06

Sir Arthur Sullivan, Adelaide Anne Procter

The Lost Chord

Performer: Webster Booth, Herbert Dawson (organ).

His Master's Voice C.3130.
Tr1.

Wendy Cope

Extract from Daddy Played Chopsticks, read by Imogen Stubbs

00:12

Nikolai Tcherepnin

Tàti-tàti

Performer: Staatsphilharmonie Rheinland-Pfalz, Igor Blashkov (conductor).

00:13

Michael Tippett

The Blue Guitar Sonata for Solo Guitar (1983): II Juggling

Performer: Craig Ogden.

Wallace Stevens

The Man with the Blue Guitar, read by Simon Shepherd

Ruth Padel

Mary's Elephant, Elizabeth's Spinet, read by Imogen Stubbs

00:19

George Frideric Handel

Suite in E Major, HWV 430 – IV. Air con variazioni 'The Harmonious Blacksmith'

Performer: Bob van Asperen.

Sony Classical SK68260.
Tr5.

Seamus Heaney

Digging, read by Simon Shepherd

00:26

Trad.

He's Got the Whole World in His Hands

Performer: Nina Simone.

Fuel 2000 - 302 061 544 2.
Tr12.

Helen MacDonald

Extract from H Is For Hawk, read by Imogen Stubbs

00:31

Giacomo Puccini, Giuseppe Giacosa, Luigi Illica

Che gelida manina (Your Tiny Hand is Frozen) from La Bohème

Performer: Andrea Bocelli.

William Shakespeare

Romeo and Juliet Act 1 Scene 5, read by Simon Shepherd and Imogen Stubbs

00:36

Bill Withers

Grandma's Hands

Performer: Bill Withers.

Michael Rosen

These Are The Hands, read by Simon Shepherd

00:39

Percy Grainger

Free Music No. 1 for four theremins (1936)

Performer: Lydia Kavina.

Laila Halaby

Handfuls of Wind, read by Imogen Stubbs

00:41

Leos Janáček

String Quartet No. 2 'Intimate Letters': IV. Allegro

Performer: Hagen Quartett.

John Donne

Elegy XIX: To His Mistress Going To Bed, read by Simon Shepherd

00:52

Steve Reich

Clapping Music For Two Performers (1972)

Performer: Alessandro Carobbi, Fulvio Caldini, clapping.

00:57

Lincoln Chase

The Clapping Song

Performer: Shirley Ellis.

Columbia MoodCD37.
CD2 Tr9.

Charles Dickens

Extract from Oliver Twist, read by Simon Shepherd

01:01

Speech

Stokowski in Rehearsal – Taped during the Scheherazade recording sessions

Performer: Leopold Stokowski.

01:01

Camille Saint‐Saëns

Danse Macabre

Performer: National Philharmonic, Leopold Stokowski (conductor).

Mary Cornish

Hand Shadows, read by Imogen Stubbs

Wendy Cope

On A Train, read by Imogen Stubbs

01:09

Frédéric Chopin

Waltz in A flat major, op. 69 no.1

Performer: Vladimir Ashkenazy.

Producer's Notes: Hands

The hand is one of the things that distinguish humans from animals. Even primates with opposable thumbs, like gorillas, must use their hands for locomotion whereas ours are free to do what they have evolved to do: manipulate.  It is the range of uses to which we put our ability to handle objects that is an expression of creativity, in fact there is very little in any human endeavour that doesn't involve our hands.

One of the unique abilities we have is handwriting and it is often so individually distinctive that it is possible to identify someone simply from the way they write.  Mozart scholars for many years attributed the composition of the 'Symphony No 3 in E flat major' to the young Wolfgang because the manuscript was in Mozart's hand. It turns out that in fact it is by Christian Friedrich Abel and it had been copied out by Mozart in 1764 as a study exercise.  It raises the question of whether it is of any less quality because it was not composed by the prodigy. The movement here is the third and final one, the Presto.

There is considerably more finality where handwriting is concerned in the verses extracted here from 'The Rubaiyat of Omar Khayyam', originally written in the 12th century and translated in the 19th century by Edward Fitzgerald. Here he uses the image of the moving finger of the Master of the Show to indicate that once something is in writing it is permanent. 'Get it down in writing' we say when we want an idea to be fixed, thus our hands make the abstract into the concrete.

As well as the writing of music, the playing of it depends almost entirely on the actions of the hand. There are few instruments that aren't played with the hands, the bass drum in a kit or organ pedals perhaps, but that's only because the hands are so busy elsewhere.  The piano keyboard in particular demands the skills of both sets of fingers so it is unusual that a one-handed person becomes a concert pianist. Unusual but not unknown.  There was a Hungarian called Géza Zichy who lost his right arm in a hunting accident as a teenager but nevertheless went on to study in the 1870s under Liszt who admired him very much.  Zichy wrote much music including a left hand only concerto.  In our own time there is Nicholas McCarthy, who was born without a right hand but that didn't prevent him from graduating from the Royal College of Music, the first single-handed keyboard graduate in its history.  He has taken up the baton of Zichy and explores the left handed repertoire as well as expanding it with arrangements of his own. Here he plays Artur Cimirro's arrangement for left hand of Scriabin's 'Étude Op.8 No.12'.

The creativity of the keyboard player is marked in 'The Lost Chord' Sir Arthur Sullivan's setting of a poem by Adelaide Anne Procter.  The image of the player's hands improvising at the organ and Sullivan's emotive music made the song very popular with the Victorians and indeed subsequent generations. Many people recorded it but this scratchy 78 by Webster Booth is particularly evocative.

Wendy Cope's recollections of how playing the piano was a unifying influence in the family comes from a talk commissioned for Radio 3 in 2012 called 'Daddy Played Chopsticks'.  'Chopsticks', or the 'Chop Waltz',  a simple piece written in 1877, co-incidentally the same year as 'The Lost Chord', by Euphemia Allen was designed to be played with the sides of each hand like karate chops, hence the name.  The tune was pretty much the same as a Russian children's piano exercise 'Tati-tati' which Nikolai Tcherepnin arranged in a set of variations on the theme one of which is played here.

While instruments like the trumpet don't really require both hands to do the fingering, the guitar is very much a two handed instrument. Wallace Stevens wrote his epic modernist poem, 'The Man with the Blue Guitar', in 1937 inspired by Picasso's painting, although he says he had no particular work in mind.  Sir Michael Tippett had Stevens's work on mind when he wrote 'The Blue Guitar' based on stanzas from the poem. We hear the opening verses  over the second movement Tippett's Sonata, played very much with both hands by Craig Ogden as he picks strums and slaps the instrument.  The title is a reference to yet another activity for our hands – 'Juggling'. 

 We return to the keyboard in Ruth Padel's poem 'Mary's Elephant and Elizabeth's Spinet' which was written about the Victoria and Albert Museum and refers to two exhibits there, The Queen Elizabeth Virginal which was probably owned by the Virgin Queen and another example of handiwork an embroidery with gold, silver and silk, one of the 'Oxburgh Hangings' in which Mary Queen of Scots likely had a hand.

A full size member of the harpsichord family features in Handel's 'Suite in E Major'. The last movement is more popularly known as 'The Harmonious Blacksmith'. There is some debate as to whether Handel intended it to be a tribute to a cheery man who works with his hands – did he hear the smith's singing the air or was he inspired by the banging of the hammer on the anvil?  It seems unlikely but nevertheless the name has stuck to this popular piece played here by Bob van Asperen.

Working with one's hands is the theme of Seamus Heaney's celebrated poem 'Digging' whether it is the manual labour of his father or grandfather wielding a spade or Heaney's own grasping a pen - there is a link between the act of digging and a spiritual connection with nature and the recognition that even a more cerebral activity like writing requires the use of his hands.

That connection with a wider spirituality is also reflected in Nina Simone's rendition of the traditional spiritual 'He's Got the Whole World In His Hands' in which the nurturing side of the Lord, exemplified by his protective hands is seen to apply to everyone.  And in Helen MacDonald's novel 'H Is for Hawk' her attempts to connect directly with nature by training a goshawk physically involves her hands, one gloved for the bird to grip with its claws and the other to  comfort and calm it.

'Che gelida manina' usually translated as 'your tiny hand is frozen' is from Puccini's La Bohème and is sung by Rodolfo when he first meets the seamstress Mimi in the chilly block of flats in the Latin Quarter they share.  The coldness of her hand foreshadows the tragedy to come and Rodolfo tries to take hers in his in a moment of caring and connection.  The popular Italian singer Andrea Bocelli is the voice of Rodolfo here.

Another ill-fated couple feature in the next reading, Shakespeare's 'Romeo and Juliet' who, also at the beginning of their romance,  speak to each other in the form of a sonnet, making great play of the part hands play in both love and religion.

The Bill Withers song 'Grandma's Hands' takes a more literal approach to the role of hands in bringing up children - a theme Michael Rosen develops in 'These Are the Hands'  to include the ways hands are involved in healthcare throughout our lives.

The Australian composer Percy Grainger was very interested in experimental music and new instruments. In the 1940s he built with his own hands electronic machines to realise the sounds he heard in his head. They had names like "The Electric Eye Tone Tool Cross-Grainger for Playing Grainger's Free Music" and "The Kangaroo Pouch Free Music Machine".  Here one of his compositions is played on four Theremins which control pitch and volume by the proximity of hands to antennae.
The result is the spooky sound familiar to science fiction film fans.

The whistling nature of the Theremin is also used for wind sound effects and it is the wind which the Jordanian American poet Laila Halaby tries to catch in her hands speeding through her home countries.

Hands are indispensable for expressing intimacy whether through direct touch or putting pen to paper and Leoš Janáček's  1928  String Quartet no. 2  is known as the 'Intimate Letters'.  It was inspired by his largely unrequited love for a married woman to whom he wrote more than 700 love letters.  John Donne wanted something more tangible as expressed 'To His Mistress Going to Bed' where the sensual nature of touch in sex is beautifully described.

Whilst hands are needed for playing most musical instruments the simplest musical instrument can be played with the hands alone. Clapping has featured in folk forms like flamenco for centuries but striking the hands together is rare in the concert hall. Steve Reich redresses that balance a little with his 1972 piece 'Clapping Music' Inspired by flamenco and imagining what would happen if for some reason musicians had to suddenly do without their instruments.

Clapping is also a feature of playground rhymes and the R&B songwriter Lincoln Chase's  reworking of a children's chant, 'The Clapping Song'  was a hit for Shirley Ellis in 1965.

A darker view of childhood is described by Charles Dickens in 'Oliver Twist' although that is not the way the naïve Oliver sees it in this extract  where the young hands are being taught criminal skills.

Leopold Stokowski was one of the great conductors of the 20th century and remarkable for not using the baton and controlling the orchestra simply with both hands.  We hear him here addressing the London Symphony Orchestra in rehearsal about the qualities the conductor is looking for in music.  It is then his baton, or rather lack of it, which leads the National Philharmonic in Saint-Saëns's 'Danse Macabre'.

The American poet Mary Cornish's 'Hand Shadows' dance on the canvas of a tent but the young Mary doesn't seem to find them macabre.  More exciting and intriguing

Wendy Cope returns on poetic form this time as she evokes the quiet intimacy of holding hands with a close companion and we wave our hands in farewell with Frédéric Chopin's Waltz in A Flat Major, op. 69 no.1 - known as 'L'Adieu' as it was written as a farewell gift to the artist Maria Wodzińska to whom he was engaged for a time.

 
Producer: Harry Parker

Broadcasts

The hidden history of plant-based diets