Main content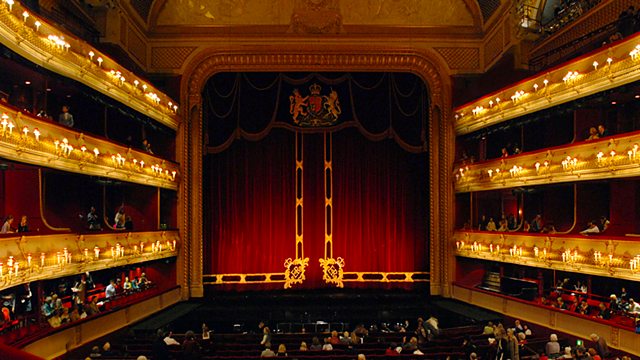 Mascagni's Cavalleria Rusticana and Leoncavallo's Pagliacci
From the Royal Opera House, Covent Garden, a new production of Mascagni's Cavalleria Rusticana and Leoncavallo's Pagliacci, one of the most popular operatic double-bills.
From the Royal Opera House, Covent Garden a new production of one of the most popular double-acts in the operatic repertoire, 'Cav and Pag' - Mascagni's Cavalleria rusticana and Leoncavallo's Pagliacci. Set in small villages in southern Italy/Sicily, both operas are part of the verismo movement, presenting a slice of real life with all its disappointments and betrayals on the stage. In Cav, Santuzza makes the fateful decision to tell Alfio of his wife's affair with the man she loves, while in Pag, Nedda's affair is avenged by her husband while they're both on stage during the famous play within a play. Aleksandrs Antonenko stars in both operas as Turiddu and Canio, and Dimitri Platanias as Alfio and Tonio, while Eva-Maria Westbroek and Carmen Giannattasio play the unfortunate women in their lives. Martin Handley presents, and is joined in the box by musicologist and opera historian Alexandra Wilson to talk about the operas' history and the impact of the verismo movement. Plus Martin Handley interviews director Damiano Michieletto about his concept for the productions, and conductor Antonio Pappano explains why the music in these two operas sit so well together.
Mascagni: Cavalleria rusticana
Santuzza ..... Eva-Maria Westbroek (soprano)
Turridu ..... Aleksandrs Antonenko (tenor)
Alfio ..... Dimitri Platanias (baritone)
Lucia ..... Elena Zilio (mezzo-soprano)
Lola ..... Martina Belli (mezzo-soprano)
Leoncavallo: I Pagliacci
Canio ..... Aleksandrs Antonenko (tenor)
Nedda ..... Carmen Giannattasio (soprano)
Tonio ..... Dimitri Platanias (baritone)
Silvio ..... Dionysios Sourbis (baritone)
Beppe ..... Benjamin Hulett (tenor)
Royal Opera Chorus
Orchestra of the Royal Opera House
Antonio Pappano (conductor).
Synopsis
Mascagni: Cavalleria rusticana
While Turiddu was away in the army, his lover Lola turned to Alfio. Turiddu returned home to find Lola and Alfio married. He consoled himself by seducing Santuzza, but has now abandoned her for an adulterous affair with Lola.
Turiddu's voice is heard singing of Lola and the reckless love he has for her. Villagers prepare to celebrate Easter Sunday. Santuzza arrives to see Turiddu, but Turiddu's mother, Lucia, tells her that he is still away in another town fetching some more wine. Santuzza had heard he had returned to the village the previous night. The women's conversation is interrupted by Alfio returning home. He enthuses about his enjoyable job and lovely wife (Il cavallo scalpita) and in passing mentions that he saw Turiddu near his house early that morning.
The whole village gathers for the morning service, and Santuzza joins in with their Easter Hymn (Inneggiamo, Il Signor non è morto). When everyone else goes on to church, Santuzza and Mamma Lucia stay. Santuzza tells Lucia how Turiddu seduced her, and then abandoned her for Lola (Voi lo sapete, o mamma). Because she has slept with a man outside of marriage, Santuzza considers herself excommunicated and unable to enter the church. She asks Mamma Lucia to pray for her. Turiddu arrives. Santuzza reproaches him for his behaviour with Lola, while he accuses her of irrational jealousy (Tu qui, Santuzza?). Lola arrives, singing. She flirts with Turiddu, mocks Santuzza and goes on to church. Santuzza begs Turiddu to stay, but he violently rejects her. Santuzza curses him. Alfio comes looking for his wife, and Santuzza impulsively tells him about Lola's affair with Turiddu. Alfio swears revenge (Ad essi non perdono).
Intermezzo
Turiddu invites his friends to drink with him (Viva il vino spumeggiante). Alfio refuses. The women, Lola among them, leave. Alfio challenges Turiddu to a duel. Turiddu accepts the challenge, and Alfio heads to the orchard to wait for Turiddu. Turiddu tells his mother he has to go (Mamma, quel vino è generoso!), and that if he does not return, she must be a mother to Santuzza. As Lucia waits anxiously, first Santuzza joins her, then other villagers. Suddenly, a woman cries out that Turiddu has been killed.
Leoncavallo: I Pagliacci
Prologue
Tonio, one of the actors, introduces the opera in the character of the Prologue. He tells the audience that they will see a drama about real people.
Act I
Villagers are excited by the arrival of travelling actors. Canio, the leader of the troupe, announces that their play that evening will be about the misadventures and eventual triumph of the cuckolded husband Pagliaccio. The villagers invite Canio and his fellow actors Beppe and Tonio to have a drink with them. Tonio says that he will join them shortly. The villagers joke that Tonio wants to stay and flirt with Canio's wife Nedda. Canio responds that while he's happy to play a cuckolded husband on stage, he will not countenance any infidelity from Nedda in real life.
Left alone, Nedda broods on her husband's jealousy and envies the freedom of the birds (Stridono lassù). Tonio has been secretly listening, and now emerges from hiding to plead with Nedda: he knows that he is crippled and unattractive, but he loves her. Nedda mocks him. When he tries to kiss her, she strikes him. Tonio leaves, now provoked to revenge.
Silvio, one of the villagers, comes looking for Nedda: he is her secret lover. The troupe will be leaving the next day, and he can't bear the thought of Nedda going too. He urges her to run away with him. Initially reluctant, she agrees to come to Silvio that night. The couple do not realize that Tonio has overheard their conversation. He has fetched Canio, who is in time to hear the lovers plan to meet later. Silvio escapes before Canio discovers who he is. Tonio laughs at having got his own back on Nedda.
Canio theatens Nedda to make her reveal who her lover is, but she refuses to name him. Beppe interrupts them: the audience are arriving for the show. As Canio dresses for the performance, he rails against a life in which he must play the clown while his heart is breaking (Vesti la giubba).
Intermezzo
Act II
Tonio orders the audience to their seats while Nedda takes the ticket money. Silvio comes to remind her of their rendezvous, and she warns him to keep out of sight of Canio. The play's story mirrors the troupe's real-life situation. Arlecchino (Beppe) serenades Colombina (Nedda), who announces that her husband Pagliaccio (Canio) is away from home. Her servant Taddeo (Tonio) attempts to flirt with her, but she scornfully sends him away so that she can enjoy a supper with Arlecchino. Taddeo interrupts with the news that Pagliaccio is returning home early. Arlecchino escapes as Pagliaccio enters.
As scripted, Pagliaccio accuses Colombina and demands her lover's name. But Nedda quickly realizes that Canio is not acting. She attempts to go on with the play, but Canio will not (No! Pagliaccio non sono). The audience applaud his apparently life-like acting, but Silvio grows nervous. Ignoring Nedda's attempts to keep to the script, Canio angrily denounces her. Enraged that Nedda still refuses to reveal her lover's name, he kills her. Nedda calls out for Silvio, who runs onto the stage. Canio kills him too. The audience are horrified. Tonio announces that 'the play is over'.
- With thanks to the Royal Opera House.