Main content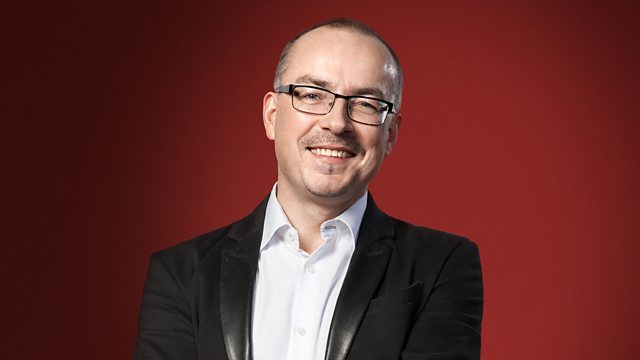 Building a Library: Mendelssohn: Symphony No 5
With Andrew McGregor. Including Building a Library: Mendelssohn: Symphony No 5 (Reformation); Recent releases of Beethoven, including the Mass in C; Disc of the Week.
with Andrew McGregor
0930
Building a Library
Andrew Mellor compares recordings of Mendelssohn's Symphony No.5, the 'Reformation'. It was written to mark the 300th anniversary of the Presentation of the Augsburg Confession in 1530, a critical event of the Protestant Reformation
1030
Mark Lowther chats to Andrew about recent releases of Beethoven: symphonies from Nagano, Häselbock and Leibowitz, plus the Mass in C from Michael Tilson Thomas in San Francisco
1145
Andrew chooses an outstanding new release as his Disc of the Week.
9.00am
Mendelssohn: Symphonies Nos. 3 & 4
MENDELSSOHN: Symphony No. 3 in A minor Op. 56 'Scottish'; Symphony No. 4 in A major Op. 90 'Italian'
Freiburger Barockorchester, Pablo Heras-Casado (conductor)
HARMONIA MUNDI HMC902228 (CD)
 
Haydn: Symphonies Nos. 7 & 83 & Violin Concerto in C major
HAYDN: Symphony No. 7 in C major 'Le Midi'; Symphony No. 83 in G minor 'The Hen'; Violin Concerto No. 1 in C major, Hob.VIIa:1
Aisslinn Nosky (violin), Handel and Haydn Society, Harry Christophers (conductor)
CORO COR16139 (CD mid-price)
 
JS Bach: Lutheran Masses II
BACH, J S: Mass in F major, BWV233; Mass in A major, BWV234
PERANDA: Missa in A minor
Hana Blažikova (soprano), Joanne Lunn (soprano), Aki Matsui (soprano), Robin Blaze (counter-tenor), Yusuke Fujii (tenor), Gerd Turk (tenor), Katsuhiko Nakashima (tenor), Dominik Worner (bass), Peter Kooij (bass), Bach Collegium Japan, Masaaki Suzuki (conductor)
BIS BIS2121 (Hybrid SACD)
 
Copland: Orchestral Works, Vol. 1
COPLAND: Fanfare for the Common Man; El Salon Mexico; Billy the Kid - Suite; Appalachian Spring - Suite; Rodeo (Four Dance Episodes)
BBC Philharmonic, John Wilson (conductor)
CHANDOS CHSA5164 (Hybrid SACD)
9.30am - Building a Library
<?xml:namespace prefix = o ns = "urn:schemas-microsoft-com:office:office" />
Andrew Mellor surveys recordings of Mendelssohn's 5th Symphony ('Reformation') and recommends a recording.

Top recommendation:
 
Mendelssohn - Complete Symphonies Volume 4
MENDELSSOHN: Symphony No. 5 in D major Op. 107 'Reformation'; String Symphony No. 5 in B flat major; String Symphony No. 6 in E flat major; String Symphony No. 10 in B minor
Heidelberger Sinfoniker, Thomas Fey (conductor)
HANSSLER HAEN98547 (CD mid-price)
10.20am – Mendelssohn New Releases
Claudio Abbado: The Last Concert
BERLIOZ: Symphonie fantastique Op. 14
MENDELSSOHN: A Midsummer Night's Dream - incidental music Op. 61
Deborah York (soprano), Stella Doufexis (mezzo-soprano), Berliner Philharmoniker, Claudio Abbado (conductor)
BERLINER PHILHARMONIKER BPHR160081 (2 CDs + Blu-ray + download mid-price)
Mendelssohn in Birmingham, Vol. 4
MENDELSSOHN: Violin Concerto in E minor Op. 64; A Midsummer Night's Dream - incidental music Op. 61
Jennifer Pike (violin), Rhian Lois (soprano I), Keri Fuge (soprano II), CBSO Youth Chorus, City of Birmingham Symphony Orchestra, Edward Gardner (conductor)
CHANDOS CHSA5161 (Hybrid SACD)
Mendelssohn: A Midsummer Night's Dream
MENDELSSOHN: The Fair Melusine Overture Op. 32; A Midsummer Night's Dream - incidental music Op. 61; Hebrides Overture Op. 26
Magdalena Risberg (soprano), Camilla Tilling (soprano), Swedish Chamber Orchestra, Swedish Radio Choir, Thomas Dausgaard (conductor)
BIS BIS2166 (Hybrid SACD)

10.40am – New Beethoven Releases
Mark Lowther reviews recent Beethoven releases.
Re-Sound Beethoven Volume 2
BEETHOVEN: Symphony No. 7 in A major Op. 92; Wellington's Victory Op. 91 (Battle Symphony)
DUSSEK, J L: Jubel-Marsch
PLEYEL: Braunschweig-Marsch
Orchester Wiener Akademie, Martin Haselbock (conductor)
ALPHA ALPHA473 (CD)
Beethoven: 9 Symphonies
BEETHOVEN: Symphonies Nos. 1-9 (complete); The Creatures of Prometheus Op. 43: excerpts; Egmont Incidental Music Op. 84 (excerpts); Grosse Fuge in B flat major Op. 133
Orchestre Symphonique de Montreal, Kent Nagano (conductor)
ANALEKTA AN291505 (6CD budget)
Beethoven: Piano Concerto No. 3 & Mass in C Major
BEETHOVEN: Piano Concerto No. 3 in C minor Op. 37; Mass in C major Op. 86
Emanuel Ax (piano), Joelle Harvey (soprano), Kelley O'Connor (mezzo-soprano), William Burden (tenor), Shenyang (bass-baritone), San Francisco Symphony Chorus, Michael Tilson Thomas (conductor)
SFS SFS0064 (Hybrid SACD)
The Art of Leibowitz
BEETHOVEN: Egmont Overture Op. 84; Leonore Overture No. 3 Op. 72b; Symphonies Nos. 1-9 (complete); The Ruins of Athens: Turkish March
Rene Leibowitz (conductor)
SCRIBENDUM SC510 (13CD budget)
Beethoven: Symphonies Nos. 4 & 5
BEETHOVEN: Symphony No. 4 in B flat major Op. 60; Symphony No. 5 in C minor Op. 67
Concentus Musicus Wien, Nikolaus Harnoncourt (conductor)
SONY 88875136452 (CD)
11.40am – Disc of the Week
ABRAHAMSEN: Let me tell you
Barbara Hannigan (soprano), Symphonieorchester des Bayerischen Rundfunks, Andris Nelsons (conductor)
WINTER AND WINTER 9102322 (CD)