Main content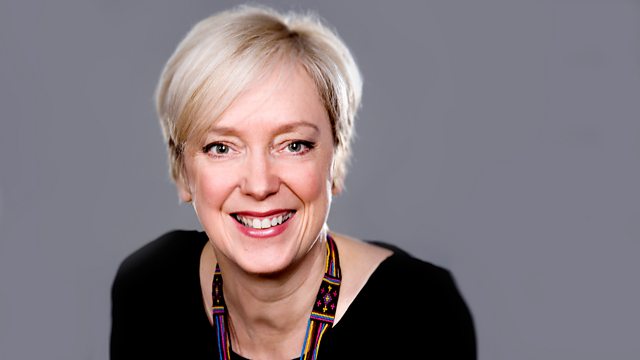 The James Plays, Terry Gilliam and Ronan Keating
Blythe Duff, Steven Millar and Matthew Pidgeon discuss The James Plays, Terry Gilliam talks about the Word on the Street campaign, and Ronan Keating talks about his new album.
Actress Blythe Duff and acting royalty Steven Millar and Matthew Pidgeon tell Janice about touring Rona Munro's award-winning trilogy The James Plays. Giles Lamb tells us about composing a sound to sell Scotland for a brand new Visit Scotland campaign and Holly Murphy and Anna Cowan are on the youth committee of The Glasgow Youth Film Festival which kicks off this weekend and share some of the treats in store programmed by young people. And with 10 albums under his belt Ronan Keating tells Janice about his latest release 'Time of My Life' as well as plans for Scottish dates as part of his UK tour in the autumn. As the craft industry gathers momentum in homes, galleries and online, David Poston tells us about his exibition Necklace for an Elephant and other stories, we hear about the unearthing after 26 years of Keeping Glasgow in Stitches, 12 banners depicting Glasgow life created for European City of Culture and Miranda Harvey tells us about The Cordis Trust Prize for Woven Tapestry 2016 due to be announced on 12th February.
Last on
Keeping Glasgow in Stitches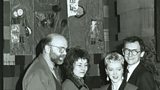 Malcolm Lochhead, Sandi Kielhmann, Janice Forsyth and Julian Spalding at the unveiling of the first panel in the Keeping Glasgow in Stitches project at Kelvingrove Art Gallery and Museum. The photograph appeared in the April 1990 issue of the Glasgow City Council newspaper The Bulletin.
Keeping Glasgow in Stitches was a major community arts project organised by the community sewing project "Needleworks" and Glasgow Museums as part of Glasgow's year as European City of Culture. Twelve banners were created, one for each month of the year, and the designs celebrated various aspects of the people, culture and life of Glasgow. Over 600 people were involved.

Broadcast