Main content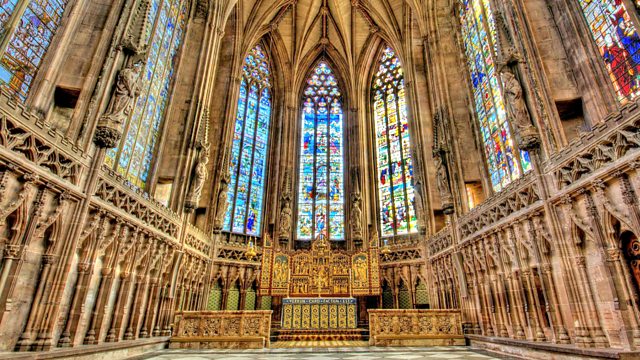 Cathedrals, 4th-Century Bible, Human Nature and God
Religious and ethical news. Edward Stourton asks if it is human nature to believe in God and whether Anglican cathedrals can survive financially. Plus a 4th-century Bible.
Edward Stourton asks: is it human nature to believe in God? He is joined by Dominic Johnson and Conor Cunningham to discuss.
Bob Walker reports on a BBC English Regions poll that reveals that almost three-quarters of England's Anglican cathedrals say they're 'worried' or 'very worried' that they're not going to be able to fund cathedral costs in two years' time.
The suicide of Rohith Chakravarti Vemula at Hyderabad University has reignited caste controversies in India. Rahul Tandon reports from Dehli.
On Monday all eyes in America will be on Iowa, it's the 1st leg of the caucuses that will decide on the presidential candidates for the election in November. Alexander Smith talks to Edward about what role religion plays in the presidential race.
Catholic clergy are expected to join a demonstration in Rome this weekend to promote traditional family life. Christopher Lamb explains its significance and timing as Italian politicians debate a gay unions bill this week. Meanwhile in the UK, Professor David Voas looks at the findings of a YouGov Poll that says for the first time more Church of England members support same-sex marriage than oppose it..
Created in the middle of the fourth century, the Codex Sinaiticus is one of the more important books in the world, containing the oldest complete New Testament. Trevor Barnes went along to the British Library to take a look.
Fr Jeffery Whorton, the last priest to celebrate mass at altar in the Saint Elijah monastery in Iraq before it was destroyed by so-called IS, talks to Sunday about the significance of the site.
Photo Credit: New lady Chapel Lichfield Cathedral - Paul Horton
Producers
Carmel Lonergan
Amanda Hancox.
Clips

Chapters
Dalits

A suicide at Hyderabad University has re-ignited caste controversies in India

Duration: 03:11

Saint Elijah Monastery

We here from the last priest to celebrate mass in the Saint Elijah monastery in Iraq

Duration: 04:37

Human Nature

Is it human nature to believe in God?

Duration: 06:31

Bible

Made in the fourth century, the Codex Sinaiticus is one of the earliest Christian Bibles

Duration: 05:54

Italian Gay Union

Catholic clergy are expected to join a demonstration to promote traditional family life

Duration: 03:45

YouGov Poll

More Church of England members support same sex marriage than oppose it

Duration: 04:34

Cathedrals

Poll reveals financial worries for almost three quarters of England's Anglican cathedrals

Duration: 07:50

Iowa

What role will religion plays in the presidential race

Duration: 05:53