Main content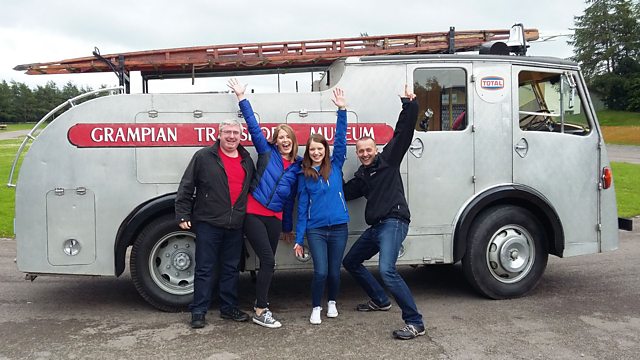 Episode 3
Tha Air an Rathadh a' gluasad gu cumhachd an dealain an t-seachdain seo, agus chan eil Donnie air a dhòigh. The programme switches to electric power, and Donnie is not happy.
Tha Air an Rathad aig cumhachd an dealain an t-seachdain seo, a' gabhail cuairt ann an dà chàr bho gach ceann dhen mhargaidh - an Nissan Leaf agus an Tesla Model S ùr. Ach cò gheibh fear seach fear a dhràibheadh? Faodar 250 mìle a dhèanamh anns an Tesla Model S, agus gheibhear bho 0-69 ann an 3.1 diogan - àm do-chreidsinneach. Tha Donnie agus Murray air bhioran gus a dhràibheadh, ach 's ann aig Linda a tha am bonn a dhearbhas...
'S e an Leaf an càr dealain as motha a tha air reic anns an RA, ach gun e air chomas ach nas lugha na 100 mìle a dhèanamh, 's e càr a' bhaile mhòir a th' ann. Tha Air an Rathad a' feuchainn dè cho math 's a bhiodh e eadar an dachaigh agus an obair.
Agus gun satnav no fònaichean-làimhe gus an cuideachadh, tha gach sgioba a' dol air chall gu dona ann an Railidh na Trealaich . Tha iad a' feuchainn faighinn gu Taigh-tasgaidh Còmhdhail nam Monadh-Liath ann an Àfard, far a bheil seann chàr a' feitheamh riutha.
'Air an Rathad' - 's ann mu na càraichean a tha e!
Air an Rathad goes all electric in this episode, test driving cars from both ends of the market - the Nissan Leaf and the new Tesla Model S. But who gets to drive what? The Tesla Model S has a range of 250 miles and does 0 to 60 in 3.1 seconds. Both Donnie and Murray are desperate to drive it, so Linda decides to toss a coin...
The Leaf is the UK's top-selling electric vehicle, but with a range of under 100 miles, it's a city car. Air an Rathad tests its commuting capabilities.
And without satnav or mobile phones to assist them, both teams get hopelessly lost in Railidh na Trealaich. They're trying to get to Grampian Transport Museum in Alford, where a vintage vehicle is waiting for them on the track.