Main content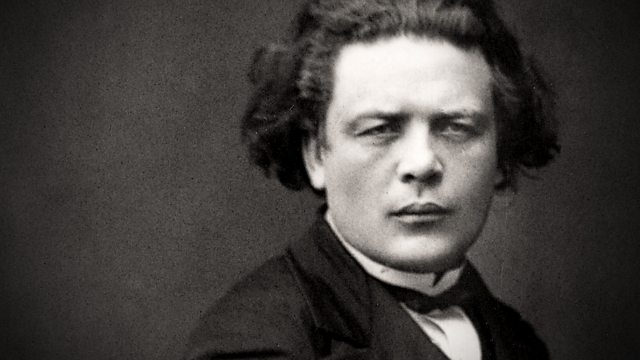 A Return to the St Petersburg Conservatoire
Donald Macleod focuses on Rubinstein's return in 1887 to the St Petersburg Conservatoire as its director. With Serenade russe in B minor, Symphony No 5 (excerpt) and Tambourine.
He was called the Michelangelo of music, and was one of the most prolific and charismatic musical figures of the nineteenth century, this week Donald Macleod explores the life and music of Anton Rubinstein.
During the 1880s Rubinstein was active not only as a composer and concert pianist, but also as a conductor of his own works around Europe, including the operas Nero and Feramors. His opera The Demon has been credited as the first Russian opera ever heard in Britain, performed around this time at Covent Garden. Never one to sit idle, by 1887 Rubinstein returned to the St Petersburg Conservatoire again as its Director. He didn't give up composing and by 1890 was completing a second book of solo piano works called Akrostichon.
Towards the end of Rubinstein's life there were many celebrations in Russia for his sixtieth birthday, and also for the anniversary of his first public appearance in Moscow fifty years earlier. It was during one banquet in Rubinstein's honour that he publically argued with Tchaikovsky. The Tsar awarded Rubinstein a lifetime pension of three thousand roubles, but all was not harmony in the Rubinstein household, and he eventually separated from his wife and moved to Berlin. Not long after came the death of one of his sons, and not long after that Rubinstein himself died at his house in Peterhof in 1894.The proceeds of his final concerts, performing piano works such as his Serenade Russe, were all given to charity. The Times obituary spoke of a man superb of generosity and unselfishness.
Sérénade russe in B minor
Joseph Banowetz, piano
Symphony No 5 in G minor Op 107 (Moderato assai)
George Enescu State Philharmonic Orchestra
Horia Andreescu, conductor
Tambourine Op 76 No 6
Olga Borodina, mezzo-soprano
Semyon Skigin, piano
Akrostichon No 2 Op 114 No 1 (Andante con moto)
Akrostichon No 2 Op 114 No 2 (Allegretto)
Akrostichon No 2 Op 114 No 3 (Andante con moto Tempo di mazurka)
Joseph Banowetz, piano
Piano Concerto No 2 in F major Op 35
Alexander Paley, piano
State Symphony Orchestra of Russia
Igor Golovchin, conductor
Producer Luke Whitlock.
More episodes
Next
You are at the last episode