Main content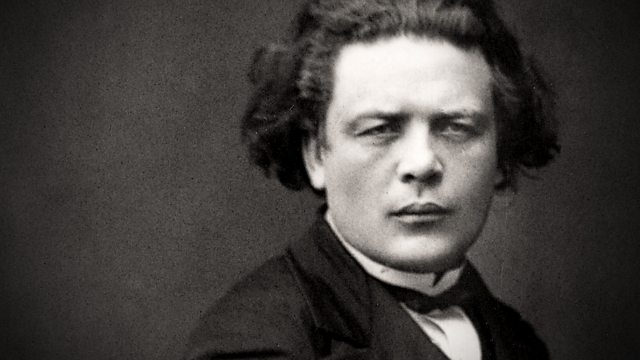 Donald Macleod focuses on Rubinstein's tour of the USA and a subsequent tour of the UK, when he performed for Queen Victoria.
He was called the Michelangelo of music, and was one of the most prolific and charismatic musical figures of the nineteenth century, this week Donald Macleod explores the life and music of Anton Rubinstein.
Rubinstein during the 1870s was busy touring Europe as a concert pianist. Saint-Saëns said of him that he was a lion at the keyboard, who stroked the keyboard in sheathed claws. Back in Russia he was becoming increasingly successful as a composer and performer and was awarded the Order of St Vladimir and then, later, elevated to the hereditary nobility. It was during this period that Rubinstein was working on his orchestral picture of a knight, Don Quixote.
Soon Rubinstein would find himself on tour in the USA, giving over two hundred concerts. Following this he made a tour of the UK, where British audiences shouted their appreciation for him. During his time in London he performed for Queen Victoria, and also met George Eliot, Robert Browning, Oscar Wilde and Sir John Millais. Returning home to his Peterhof villa, with his popularity in Russia at an all-time high Rubinstein set about working on another symphony, his Fourth, Opus 95, titled the 'Dramatic'.
Piano Quartet in C major Op 66 (Allegro vivace)
Leslie Howard, piano
Rita Manning, violin
Morgan Goff, viola
Justin Pearson, cello
Don Quixote Op 87
Wuppertal Symphony Orchestra
George Hanson, conductor
The Demon (Act II, Romance: On the oceans of the air)
René Pape, bass
Staatskapelle Dresden
Sebastian Weigle, conductor
Album de Peterhof Op 75 No 12 (Scherzo in F major)
Joseph Banowetz, piano
Symphony No 4 in D minor Op 95 "Dramatic" (Largo - Allegro con fuoco)
State Symphony Orchestra of Russia
Igor Golovchin, conductor
Producer Luke Whitlock.