Main content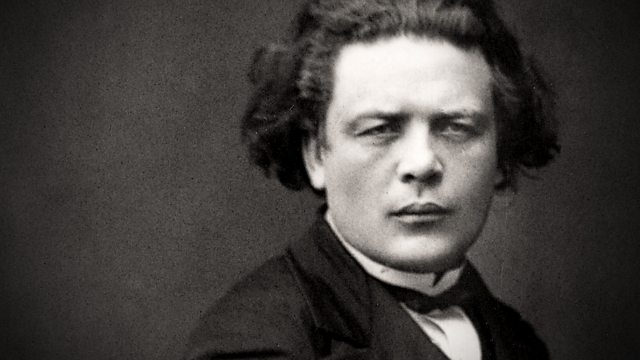 Donald Macleod focuses on Rubinstein's time spent at the St Petersburg Conservatoire. Including The Cloud, Cello Sonata No 2 (excerpt), Feramors, Prelude in D, Piano Concerto No 4.
He was called the Michelangelo of music, and was one of the most prolific and charismatic musical figures of the nineteenth century, this week Donald Macleod explores the life and music of Anton Rubinstein.
Rubinstein described himself as a Court Jester, referring to his work for the Grand Duchess Yelena Pavlovna. He was employed to entertain at her court, including accompanying singers and chamber musicians. One of the chamber works he composed around this time, 1857, was his second Cello Sonata. It was in discussions held at a villa in Nice belonging to the Grand Duchess, that the Russian Music Society was founded, and it held its first classes in 1860.
In between a busy performing and composing schedule, Rubinstein was also working on another opera at this time, Feramors, although he was keen to do more for music in Russia. Rubinstein came up with the idea of founding the St Petersburg Conservatoire, although to begin with it had to be called a school. He became its first Director and often had to stand up to the Grand Duchess, who as one of the principal funders thought she should have more of a say in how the conservatoire was run. Causing much pleasure for his critics, the Nationalist composers, Rubinstein resigned from the conservatoire in 1867. It was during this busy period of the 1860s, whilst still working hard as Director of the Conservatoire, that not only did Rubinstein get married, but he also composed his most frequently recorded piano concerto, the Fourth, Opus 70.
The Cloud Op 48
Mila Shkirtil, mezzo-soprano
Mikhail Lukonin, baritone
Yuri Serov, piano
Cello Sonata No 2 in G major Op 39 (Allegretto)
Jirí Bárta, cello
Hamish Milne, piano
Feramors (Torchlight Dance of the Brides from Kashmir)
State Symphony Orchestra
Igor Golovchin, conductor
Album de Peterhof Op 75 No 9 (Prelude in D)
Joseph Banowetz, piano
Piano Concerto No 4 in D minor Op 70
Joseph Moog, piano
German State Philharmonic of Rhineland-Palatinate
Nicholas Milton, conductor
Producer Luke Whitlock.