Main content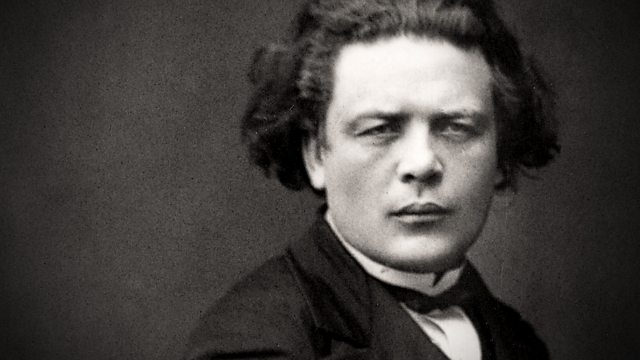 Donald Macleod focuses on the long-running rift caused by an article Rubinstein wrote about Russian music, which the nationalist composers found offensive.
He was called the Michelangelo of music, and was one of the most prolific and charismatic musical figures of the nineteenth century, this week Donald Macleod explores the life and music of Anton Rubinstein.
Rubinstein in the 1850s was trying to carve out a living for himself by giving piano lessons in St Petersburg, and also occasionally conducting a student orchestra too. He had also started work on an opera about a 14th-century Russian hero Dmitry Donskoy. It was a long struggle to get the opera accepted by the Director of the Imperial Theatres, but it was eventually staged in 1852. The score was subsequently lost, except for the dramatic Overture.
The Grand Duchess Yelena Pavlovna, who was the sister of Tsar Nicholas I, attended a performance of Rubinstein's early opera and she soon invited him to spend the summer at her palace, Kammenniy Ostrov. Here she held a number of musical soirées, and Rubinstein composed a collection of solo piano works, his Opus 10, which were musical portraits of the ladies at court.
Rubinstein was encouraged to frequently visit the Grand Duchess, not only in Russia, but also at her villa in Nice. It was here that, during discussions, the idea of establishing the Russian Music Society was born. It was also around this time that Rubinstein wrote an article on Russian music, which greatly offended a number of the Nationalist composers. This rift would continue for the rest of Rubinstein's life, and one of his works which they greatly criticised, was his Second Symphony, given the descriptive title of "The Ocean". This symphony was one of the most performed symphonies during the second half of the nineteenth century, alongside Beethoven, Schumann, Mendelssohn and Brahms.
Trot de Cavalerie
Wuppertal Symphony Orchestra
George Hanson, conductor
Overture to Dmitry Donskoy
George Enescu State Philharmonic Orchestra
Horia Andreescu, conductor
Kamennïy-ostrov Op 10 (Romance & Allegro non troppo)
Joseph Banowetz, piano
String Quartet No 2 in C minor Op 17 (Moderato)
The Royal String Quartet Copenhagen
Symphony No 2 Op 42 "The Ocean" (Allegro & Andante)
Wuppertal Symphony Orchestra
George Hanson, conductor
Producer Luke Whitlock.