Main content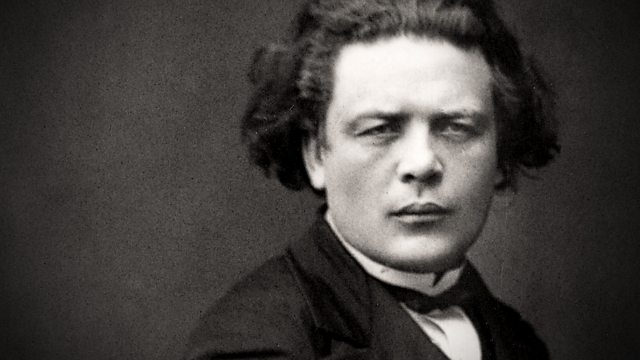 The Michelangelo of Music
Donald Macleod focuses on Rubinstein's early years, including a friendship with Liszt and the completion of his First Symphony.
He was called the Michelangelo of music and was one of the most prolific and charismatic musical figures of the nineteenth century, this week Donald Macleod explores the life and music of Anton Rubinstein. Rubinstein became not only an internationally celebrated composer, his second symphony was one of the most performed symphonies in the second half of the nineteenth century, but he was also a highly talented pianist, second only to Liszt. He took an active role in establishing the Russian Music Society, and was the first Director of the St Petersburg Conservatoire which he founded. Yet despite such accolades, including his appointment to the hereditary Russian nobility, Rubinstein came from very poor circumstances. He toured Europe for years giving concerts to packed houses, including private performances for Queen Victoria and a tour of the USA, yet back in Russia he was never far from criticism, particularly from the Nationalist composers who thought his music too Germanic and his efforts mediocre. Rubinstein in his day was a world celebrity and even Liszt called him Van II, suggesting that he might be the illegitimate offspring of Beethoven due to his leonine features and keyboard skills. Yet today he is mostly remembered for one small piano work, his Melody in F, which has been arranged countless times for various ensembles from chamber duo to Jazz band.
Young Anton's musical talents were soon realised by his mother, who engaged a music teacher for her son, Jean Villoing. Villoing took his nine-year-old student on a tour of Europe, including Paris and London where Anton performed for the likes of Queen Victoria. Once he was back in Russia, Rubinstein was also giving concerts at the Winter Palace for Tsar Nicholas I. Around this time the young Rubinstein started composing his own works, although few of these early compositions survive. He recycled an early piano concerto of his into an octet, his Octet in D minor Opus 9.
Rubinstein was back in Europe as a teenager, accompanied by his family who soon returned to Russia. He remained there in Vienna, trying to forge his own career in teaching and performing. It was Liszt who found Anton composing away in a garret, having not eaten for days. Their friendship developed from this point and in turn Rubinstein's career as a musician picked up. With revolution in the air he soon returned to Russia and continued to earn a living through teaching. By 1850 he was completing his first Symphony.
Deux Mélodies Op 3 (No 1 in F major, "Melody in F")
Leslie Howard, piano
The Singer, Op 36 No 7
Joan Rodgers, soprano
Malcolm Martineau, piano
Night, Op 44 No 1a
Joan Rodgers, soprano
Malcolm Martineau, piano
Six Characteristic Pieces, Op 50 (Barcarolle & Capriccio)
Yaara Tal, piano
Andreas Groethuysen, piano
Octet in D minor Op 9 (Allegro non troppo & Vivace)
Consortium Classicum
Symphony No 1 in F major Op 40 (Allegro)
Slovak State Philharmonic Orchestra
Robert Stankovsky, conductor
Producer Luke Whitlock.
More episodes
Previous
You are at the first episode