Main content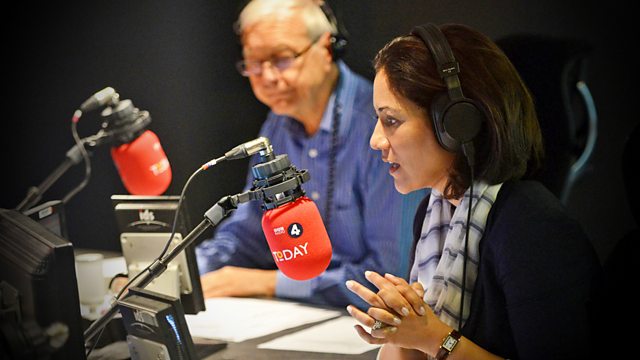 27/01/2016
Morning news and current affairs. Including Sports Desk, Yesterday in Parliament, Weather and Thought for the Day.
Today's running order
0650
Migration Watch publishes a report today claiming that Britain could slash net migration by more than 100,000 a year if it were to leave the EU. Lord Green is chairman of MigrationWatch UK and crossbench peer.
0655
It's been a turbulent few years in the world of politics, but there is a wealth of digital data that can explain why. New book Political Turbulence: How Social Media Shape Collective Action explores the digital traces left by tiny acts of political participation to find clues for why some snowball into significant collective action while others quickly fail. Professor Helen Margetts is co-author of the book.
0710
The world tennis authorities have announced an independent review into the effectiveness of anti-corruption practices in the sport. Christian Leathley is partner at the law firm Herbert Smith Freehills and represented the Tennis Integrity Unit in the first case of match fixing in 2011.
0715
An NSPCC survey of more than 1200 health professionals across the UK shows 96% believe there are not enough mental health services for children who have suffered sexual abuse and more than half blame waiting lists. Speaking live in the studio is Dr Jon Goldin from the Royal College of Psychiatrists.
0720
What is being done to crackdown on corporate tax avoidance in light of the row over Google's agreement with HMRC to pay £130m in back dated taxes? Eva Joly is vice chair of the Special European Parliamentary Committee on Tax Rulings.
0730
The European Union has called for an immediate ceasefire in south east Turkey where violence has soared between Turkish government forces and Kurdish insurgents, the PKK. The BBC's Mark Lowen reports and we speak live to Crispin Blunt, Conservative MP and chairman of the Foreign Affairs Select Committee.
0740
This time a year ago Jo Konta was ranked 144 in the world tennis rankings. In the last few hours she has become the first British woman to reach a grand slam semi-final in 23 years. How does that happen? Christine Truman Janes is a British tennis player who made her Wimbledon debut at 16 and won the French tennis championships at 18 years old in 1959.
0750
Officials in the United States have issued new guidelines to deal with the Zika virus, which is thought to cause birth defects. The BBC's Julia Carneiro reports and Dr Andy McKemy works on the front line in Brazil heading up a programme to try to eradicate mosquitos carrying diseases.
0810
The technology giant Apple has reported lower-than-expected sales of iPhones in the last quarter thanks in part to the economic slowdown in China. We hear from technology correspondent Rory Cellan-Jones, adjunct professor of Economics at London Business School Linda Yueh and former director of strategy for David Cameron Steve Hilton.
0820
It is Holocaust Memorial Day and one question which is still debated by historians is the extent to which the persecution of Jews was intentionally planned or erratically improvised by the Nazis. This is one of the central issues addressed by the late historian David Cesarani in his final work, which is published tomorrow. Sir Richard Evans, Regius Professor of History at Cambridge, was involved in editing the book.
0830
The Belgian government says that because Greece is too weak to guard its own borders it should face an EU 'sanction' under which the rising number of refugees entering the country would effectively be forced to stay there. Costas Lapavitsas is former Syriza MP and Economics Professor at SOAS School of Oriental and African Studies, University of London.
0835
The children's author Frances Hardinge has won the Costa Book of of the Year award for her Victorian murder mystery story, The Lie Tree. Ms Hardinge joins us live in the studio.
0840
The National Trust has just taken on a collection of 300 different varieties of cider apples - with the aim of saving them for future generations. The BBC's Jon Kay reports.
0850
The news of five sperm whales dying after becoming stranded on the east coast in the last few days has fascinated the public. What is it about whales that causes such an emotional reaction? Philip Hoare won the 2009 Samuel Johnson Prize for non-fiction for his book Leviathan and Dr Alisa Hall is director at the Sea Mammal Research Unit at the University of St Andrews.
All subject to change.