Main content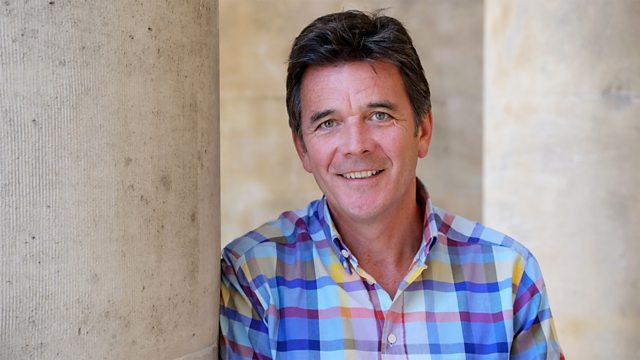 Folic acid in flour, Southampton FC and hip and groin pain, Online private doctors
Why are Premier League footballers so prone to arthritis? Dr Mark Porter visits Southampton FC, where a hip stretch and flexibility programme has dramatically reduced injuries.
Scotland is considering whether to add folic acid to staple foods like flour to protect babies against conditions like spina bifida.
Frustrated at the lack of action by the UK government on the issue - despite government advisers recommending for 16 years that flour should be fortified with folic acid - the Scottish government is preparing to go it alone.
Spina bifida is one of a group of severe congenital abnormalities known as neural tube defects that affect around 5000 developing babies in Europe every year. It's long been known that taking folic acid supplements, before and after pregnancy, can reduce the likelihood of these defects, as Helen Dolk, Professor of Epidemiology at the University of Ulster explains to Dr Mark Porter.
Professional footballers are vulnerable to hip and groin injuries and much more likely to get arthritis as they get older. Southampton Football Club has introduced a new hip stretch and flexibility programme for all their players and the result is a dramatic reduction in injuries. Mark visits the club and meets Olufela Olomola, who, before his transfer to The Saints, spent a season on the bench with hip and groin injury at Arsenal. Just a season later he's recovered and now captains The Saints under 18 team. Mo Gimpel, Director of Medical and Science Performance Support at Southampton FC says the decision to focus on hip flexibility came several years ago, after serious hip and groin injury was keeping key players off the pitch, and the club was losing matches. The new pre-activation sessions have transformed the club's injury rates and research teams are partnering the club to find out how hip impingement develops in the first place. Professor Sion Glyn-Jones from the Nuffield Department of Orthopaedics, Rheumatology and Musculoskeletal Sciences is leading a group tracking 110 young players from The Saints' Footballing Academy, a league two club, a cricket club and pupils from local schools. Detailed mechanical and imaging studies of these young players' hips will help to show exactly when hip injury, or femoroacetabular impingement, first appears, what causes it and most importantly, how to prevent it in the first place.
Private medical helplines providing 24/7 advice are the latest development in private medicine. New companies are popping up, attracting millions in private finance. They offer people access by e-mail, phone or online visual link to a GP consultation, for a fee. Dr Karen Morton, founder of DrMortons.co.uk tells Mark why she believes pressure on primary care will result in an inevitable rise in demand for such services. People who want reassurance and advice, she says, can use such helplines and avoid clogging up GP waiting rooms with relatively minor complaints. But Dr Margaret McCartney disagrees and says phone-only consultations risk fragmenting medical records and undermining the relationship between a GP and their patient.
Programme Transcript - Inside Health
Downloaded from www.bbc.co.uk/radio4 
THE ATTACHED TRANSCRIPT WAS TYPED FROM A RECORDING AND NOT COPIED FROM AN ORIGINAL SCRIPT.  BECAUSE OF THE RISK OF MISHEARING AND THE DIFFICULTY IN SOME CASES OF IDENTIFYING INDIVIDUAL SPEAKERS, THE BBC CANNOT VOUCH FOR ITS COMPLETE ACCURACY.
INSIDE HEALTH
Programme 3. - Folic acid in flour, Southampton FC and hip and groin pain, Online private doctors
TX:  26.01.16  2100-2130
PRESENTER:  MARK PORTER
PRODUCER:  FIONA HILL
Porter
Coming up in today's programme: Online doctors, the latest in private medicine, accessing GPs on a phone, tablet or computer.
And I visit a premier league football club to learn why players are so prone to arthritis and what they're doing about it.
Clip
We were a club on the slide.  We had key players that when they didn't play we lost points.  When they didn't play we lost games.  They had hip and groin issues.  We found that hip and groin issues throughout our club was a massive problem and it had kind of gone under our radar and so we felt we needed to act.
Porter
But first folic acid and reports that Scotland wants to be the first country in the UK to reinforce staple foods like flour to help protect babies against conditions like spina bifida.
Spina bifida is one of a group of severe congenital abnormalities known as neural tube defects that affect around 5,000 developing babies in Europe every year. It's long been known that taking folic acid supplements – before and during pregnancy - can reduce the likelihood of these defects, but recent research indicates that approach isn't working. Helen Dolk is Professor of Epidemiology at the University of Ulster.
Dolk
We looked across 19 countries of Europe and since 1991 there's been clear scientific evidence that folic acid, if taken from before pregnancy and continuing in the first part of pregnancy, clear evidence that that can prevent maybe up to two-thirds of neural tube defects.  So we looked from 1991 to 2011, so that's 20 years since that evidence has been available, to see if the prevalence of neural tube defects has gone down among the births in Europe.  And what we found was that it hasn't, or certainly not substantially.  So we interpreted that as a failure in the policy to prevent neural tube defects in Europe.
Porter
So can you tell from your research what is failing, is it that folate supplementation itself isn't that effective, or is it that people aren't taking supplements as they should do?
Dolk
More the latter.  Surveys have shown that many people are taking folic acid supplements during pregnancy and they're certainly recommended to do so when they come to the midwife when they know they're pregnant.  But the important period for preventing neural tube defects is very early in pregnancy, before some people even know that they're pregnant, and it's important to start taking the supplements before you become pregnant and then in that very early period and that's what's not happening.
Porter
And can you explain how fortification would get round the problem?
Dolk
Well everybody would receive a certain amount of folic acid in their food and therefore it wouldn't be such an issue to reach people before pregnancy and to make sure that everybody gets the message, no matter what their level of education or language, knowledge etc., everybody would be receiving a certain amount of folic acid.  And it's been shown in other countries to have led to a substantial fall in neural tube defects.
Porter
That was going to be my next question: do we have hard evidence that this type of reinforcing of staple foods works any better than supplementation which has let us down?
Dolk
Yes in the US, in Canada, in Australia, in Chile, lots of countries around the world, they've actually looked at its impact on the rate of neural tube defects and they have found that it has decreased significantly after they introduced fortification.
Porter
This debate has been running for 15 plus years now, why hasn't it happened before?
Dolk
I think perhaps initially there was a feeling that folic acid supplementation policy could work and that it was a matter of having better campaigns and better messages but over time it has never worked and in fact it's been recommended for years that we should fortify food but no action has ever been taken.  And it's not clear why no action has been taken and I really think we need to have a clear decision about it because I think it's been left up in the air, there are recommendations that we should fortify but nothing is ever done.
Porter
Professor Helen Dolk.
Well our Scottish correspondent, Dr Margaret McCartney, is in our Glasgow studio.  Margaret, so what happens next?
McCartney
It's all slightly up in the air, so this all from reports and the Scottish public health minister has made a statement saying that the Scottish government has been long convinced about the need for mandatory fortification of flour with folic acid for a long time and she wants to go ahead and start putting the plans in place.
Porter
I mean the rumours are that the Scottish authorities are fed up with waiting for the whole of the UK to get its act together basically.
McCartney
That's my reading of it.  And one can understand why because there have been recommendations going around that we should get on and do this from the kind of committees that deal with this really, in the year 2000, again in 2006, again in 2009, so there's been recurrent calls to do this and yet we don't really seem to have got ahead and done it.
Porter
Okay let's assume that Scotland does go ahead, I mean one imagines that's going to have to drag the whole of the UK with it, I mean a bag of flour – we're not going to know which side of the border it's being sold.
McCartney
Well unless we have Scottish flour, that would be quite good fun.  But no I can't see it and I think the inference from industry's comments on this would be very much that if Scotland does it then we're going to have to do it across the UK.  And there is a bill going through very slowly going through the House of Lords just now which is seeking much the same thing.  I think it would need some kind of a legal jurisdiction to make this happen otherwise.
Porter
And as our resident cynic/sceptic, what do you think of the move?
McCartney
I suppose I was wondering why we haven't done it already and it seems to be that we're very safety conscious.  A few years ago there was a concern that perhaps fortification with folic acid might result in more older people developing a vitamin B12 deficiency through a kind of complicated technical process but actually the evidence for that seems very, very slim and when people have come back to question it they don't see much evidence for it.  I think the matter how it's introduced would need to be done carefully and with an eye on the harms, just make sure that this is working out as expected.
Porter
But in the meantime your advice to women who are considering having a baby or indeed are already pregnant would be what?
McCartney
To take folic acid.  Ideally three months before you get pregnant and for three months after that, that's the ideal.  The problem is that many pregnancies are unplanned and many women don't realise that they're pregnant until a little bit further on and the earlier in pregnancy it's taken the better.  I do wonder if we should be selling folic acid with pregnancy testing kits.
Porter
Good idea, thank you Margaret.
We've had a big response to last week's item on the "weekend effect" which suggests it is riskier to be admitted to hospital on a Saturday or a Sunday. Quite a few of you were appalled that the BBC apparently let the Chair of the BMA, who are currently in dispute with the Government over seven day services, lead a supposedly independent discussion on the weekend effect. Well we didn't. I may share my name with the Chair of the BMA but I am a different Dr Mark Porter.
I know it's confusing but I was here first.
On a brighter note far more of you got in touch to say how much you enjoyed our exercise special at the beginning of the series. Although not everyone shared Margaret's and my enthusiasm for the benefits of exercise and Harr Rogers believes we may think differently when we're riddled with arthritis.
Rogers
I used to be a keen runner until I was 35 and my knees started to play up so I stopped and went back to swimming, something I still do.  The arrogance of youth in some of your comments in last week's programme – Margaret, let's talk to you again at 70 and see if your enthusiasm is retained.  We are all getting old and there's nothing more enjoyable than sitting down and watching the world go by.
Porter
But Deborah Cross was more complementary:
Cross
Thank you so much for an excellent programme, I was shouting at the radio, words to the effect of "at last" and "brilliant".  I'm 58 and had cancer treatment and I'm sure that being in good nick beforehand and continuing to exercise did me a lot of good, both physically and mentally. 
Porter
Indeed so many of you asked for more details of the sort of exercises that can help arthritis that our guest in the item, Professor Conaghan, has outlined some of the more common ones on our website. You will find them on the Inside Health page look for the Exercise Special from the 12th January.
Now, while exercise is generally beneficial for your joints, there are exceptions, notably professional footballers who are prone to hip and groin injuries and arthritis when they get older.
One contributory factor seems to be that they are more likely to develop femoro-acetabular impingement, where irregularities in the shape of the ball part of the joint can damage the socket causing pain, injury and eventually arthritis. All of which can prematurely end a promising career. It certainly impeded this young player:
Olomola
My name is Olufela and I'm a striker and I'm 18 years old.
Porter
What sort of problems were you getting?
Olomola
I was getting a lot of groin pains, so in both my groins. I wasn't able to sprint, also in my hip as well.  Lifting my leg was agony for me.
Porter
And how's that actually affecting your ability to play, could you still play?
Olomola
I tried to soldier on because I love football and I wasn't going to ever admit that I was injured but it did affect me.  I wasn't able to be as fast and explosive as I wanted to be.
Porter
But luckily for Olufela after a frustrating season at Arsenal, where he spent much of the time injured on the bench, Southampton Football Club spotted his potential.  Southampton have a special interest in hip and groin injuries and were confident they could help Olufela and get him back playing full time. Indeed the club is involved in new research by the University of Oxford into how the hips of young players develop over time and why they are prone to impingement and problems later in life.
Elite footballers from The Saints footballing academy are being tracked, and compared with young players from a league two club, a cricket club and pupils from local schools.
Professor Sion Glyn-Jones is leading the research team from the Nuffield Department of Orthopaedics and I went down to Southampton FC's training ground to meet him.
Glyn-Jones
Hip impingement, put in its simplest terms, is a variety of mild, we call them deformities but they're not true deformities, but mild shape abnormalities of the hip.  The most common one involves the little bump around the front of the hip joint.  And it's actually quite common in the general population, so if you look for these bumps about one in four, sometimes one in three in certain populations, have the bump.  We now realise that a lot of these small bumps can actually over the very long term and in some people cause hip arthritis.  So there's still a question about well which type of bumps cause a problem and what activities cause that bump to become a problem by getting into contact with the joint?  And of course probably what I haven't explained so far is how the damage occurs and we believe the damage occurs when the bump goes into the socket, the ball has a bump on it, the socket doesn't have the deformity initially and then you have a bump going into the socket which then causes a tear and some cartilage damage.
Porter
Is it true to say that the reason why looking at people like footballers might help is that they're extreme examples, everything happens a little bit faster, a little bit earlier than in other groups?
Glyn-Jones
That's absolutely right, we see that in some groups of athletes we see accelerated disease process, so they are, if you will, an example of studying and a great opportunity to study this condition progressing quickly rather than one that's progressing more slowly, as you might see in the general population.  We know that hip impingement is more common in footballers, about 80-90% we believe of players will have one of these bumps that manifests itself as hip impingement.
Porter
And is that because of the stresses and loads that are put on the hip joint presumably?
Glyn-Jones
We believe it but of course to get this information out we need very detailed mechanical studies of hips and very detailed imaging studies and that's indeed what we're doing with Southampton Football Club.  So we're taking 110 players or so, scanning them with some very new scanning technology in Oxford and using a variety of other measures to look indeed at when the deformity develops and what causes it.  So in terms of the loads that are placed on the joint.  And there's a nice synergy here because Southampton collects very detailed information on its players, in terms of their movement, their injuries and indeed tracks them during football matches.  In Oxford we have the benefit of understanding the condition and also having very good imaging expertise and we've married those two things together, which I think will answer many of these questions.  But also to target it much earlier and treat it before it causes a problem.
Actuality – Football Physio Session
Okay guys, let's go, start on your spinal mobility, start on our rotations, five each side…
Porter
This is a pre-activation – or pre-ac session – something that The Saints have developed - uniquely among premier football clubs - to prevent hip and groin problems among young players.
Ian
My name's Ian, I'm the under-18s physio at Saints.  We do 10-15 minutes of pre-ac in here before the session, they'll then go out and do a 10-15 minute warm up from there.
Porter
Ian takes the young players through a series of hip and groin flexing and stretching exercises – familiar to anyone who has done Pilates.
But what prompted Southampton to introduce the new programme? Mo Gimpel is the Director of Medical and Science Performance Support at the club.
Gimpel
It stemmed from a performance issue, this is probably around 2006, 7, 8.  We were a club on the slide.  We had key players that when they didn't play we lost points.  When they didn't play we lost games.  So we had to make sure they stayed on the field.  They had hip and groin issues.  We found that hip and groin issues throughout our club was a massive problem and it had kind of gone under our radar.  Senior players were retiring from football and young talented players were not fulfilling their potential because they were spending too much time in the clinic, rather than on the field.  And so we felt we needed to act.
Porter
What was it in your mind that you felt a lot of your players were doing wrong when it came to their existing training regimes that you could change for the better?
Gimpel
The feeling we had between the guys who had pain and the guys who didn't have pain were the painful lads were unable to move their femurs, their thighs, independently of their pelvis.
Porter
So when they brought their knee up to their chest they rocked their pelvis backwards…
Gimpel
They rocked their pelvis, they rotated their pelvis, they did a whole range of different movement patterns.  So we said okay why don't we take this thought process and run it across the entire squad, in fact run it across our entire academy for under13s for the first team, and let's just see.
Porter
And the aim, to put it very simply, is to increase their flexibility with their hips, would be a simple way of looking at it?
Gimpel
Yeah, flexibility and range of motion yeah.
Porter
And the idea is that that would reduce the frequency of hip and groin injury.  So what have you seen happen here since you introduced the programme?
Gimpel
The types and severity of injuries that come into the clinic have dramatically changed.  So we very, very rarely have hip problems, there's no chronic groin pain, general back pains disappear compared to what it was pre- sort of programme.
Porter
I mean you've obviously noticed yourself a significant drop off in the rate of problems that you're seeing but how do you compare against other clubs, is that validated by benchmarking yourself against your opposition?
Gimpel
We have very, very little surgery compared to other clubs and that would be hip surgery, that would be inguinal groin surgery, that would be abductor surgery.  Plus when you look at hamstrings my last analysis showed up on average a hamstring will keep a player out here for 7.8 days on average whereas the typical champion's league, premier league player's almost three weeks.  We have no recurrent hamstrings, no recurrent groin injuries, which is almost unheard of in football and that's year on year, this is a programme that is year on year.
Actuality – football physio
Right then chaps, good morning.  Make sure you're good and warm to go.  Warm up.  Alex'll take it…
Porter
And the regime here has transformed young Olufela Olomola.
Olomola
It was quite astonishing for me because I'd never seen so much organisation with the physios, like they knew exactly what was wrong with me.
Porter
And what difference has it actually made?
Olomola
I mean psychologically it helps a lot because at one point I thought the pain was never ever going to go because it kept coming back, it would go for a bit but then it'll come back so I just thought oh I'm going to have this pain for the rest of my life.  And then obviously when I come here they told me what it actually was and what I need to do to get rid of it and that really helped me.
Porter
How quickly did you notice an improvement?
Olomola
Oh I was so weak when I was doing those type of exercises and the next day I could just feel myself getting stronger and stronger.
Porter
And what difference has it made on the pitch?
Olomola
I've become – since I've come here I've got faster, I've got fitter, I'm stronger…
Porter
More dangerous.
Olomola
I'm more robust.
Porter
And in terms of your pain, do you get troubled at all?
Olomola
No I've got no pain now, I've got no pain, I can't remember what the pain feels like, literally it's great.
Porter
Olufela, now the captain of The Saints under 18s.
So, Southampton is reducing hip and groin injuries. And the club's inclusion in the Oxford study to try and understand why footballers are so prone to hip impingement will, hopefully, further reduce problems in the future.
But in the meantime, what if your teenager is a keen footballer? Should you be worried about what they might be doing to their hips? Professor Sion Glyn-Jones.
Glyn-Jones
I would say you've got to take the bigger picture.  The overwhelming benefit to your child is to get them out and doing exercise, you should not worry about their joints being a problem in 20 years' time and stop them doing exercise for that reason.  So we would overwhelmingly encourage exercise, we are just trying to refine it and make it better and safer for people over the long term.  These factors cause a risk over many decades and not over years or months.  And so if we put that into perspective you're much better off having a healthy heart and healthy rest of your body than worrying about your hip too much.
Porter
And your research is about finding out what we should be doing at that age to perfect things, to minimise any impact.
Glyn-Jones
Absolutely, it's about improving how we do exercise and understanding how we develop arthritis over many decades.  So it's a very long term thing.
Porter
Professor Sion Glyn-Jones. And you will find more information on impingement on our website.
Now, do you struggle to get in to see your GP? Well if you do, you are far from alone, the service is under considerable pressure and waiting times can be long. Just getting through to your surgery on the phone can be difficult.
Now imagine having a GP in your pocket. One that you could call on anytime, anyplace, albeit for a fee. Well that is idea behind a number of new online private medical services that offer access to a doctor via your phone, tablet or computer.
Dr Karen Morton is the founder of one of them - Dr Mortons - and she is in our Guildford studio. Karen, how does your service work?
Morton
It's simple.  Our customers register online, they answer a very thorough medical questionnaire and then they set up a pay as you go or a subscription account.  And then when they want advice our system recognises their phone number and screen pops their medical history in front of the doctor.  Once the doctor's confirmed their identity the consultation can start, with all of that background story to hand.  There's no time wasted and the customer is only charged for the actual consultation which takes on average under five minutes.
Porter
And what operating hours – is this something that's available seven days a week, 24 hours a day?
Morton
Yes, seven days a week, from seven in the morning till 11 at night.
Porter
And who are these doctors?
Morton
Well they're a group of very experienced well motivated doctors who can see that there's another way to provide primary care.  For many years all of us have felt amazed that people had no choice but to physically go to the doctor about the simplest medical things and of course although it's lovely for doctors to have people sit next to them face to face it's obviously incredibly inconvenient for the patient on a lot of occasions.  And there's a lot of evidence now Mark that 70% of problems that take people to the GP could be solved on the phone.
Porter
What sort of problems are people calling you with?
Morton
Sometimes it's just a medical worry, they've googled things, of course 75% of people google things before they go and seek any medical advice and often it's just for reassurance or explanation.  But sometimes it's more specific, we're getting a lot of email consultations with people sending photographs and such as rashes, we've had all sorts of photographs of tonsils and unfortunately herpes rashes on bottoms and all sorts of things.
Porter
How much does it cost?
Morton
Well people can pay by subscription, which is £35 a month for unlimited emails or phone calls or they can do it as a pay as you go and they can do that as a saving plan at £7.50 a month and then that costs £7.50 a minute.
Porter
Well listening to that was Margaret McCartney who's in our Glasgow studio.  Margaret, this is one of a burgeoning number of services, what's your take on it as an NHS GP?
McCartney
Yes there are lots of similar services providing this kind of instant access to general practice and I've got lots of concerns about them.  I'm a primary care doctor so I work in general practice and I use the phone all the time but I use the phone to augment my ongoing relationship with patients, so I don't use it as a substitute.  So telephones are great for example and I use it every day, I have phone appointments every day.  And usually what it's for is for sharing results, discussing management plans, usually for someone I've already met face to face, I've already got a bit of a relationship with and we're using the phone as a more convenient end to giving information, discussing what we should do next, making decisions from there but it's not a substitute.  And I'm just worried that when it comes on to using a pure phone interaction and nothing more than that we miss lots of things and I don't just mean physical examination, which we still do, very old fashioned but still is very, very valuable, but actually just having a conversation with someone eyeball to eyeball, I think there's a lot to be said for that.
Porter
Karen, what happens if I was to contact one of your doctors with a problem and that doctor felt, after assessing me, that it needed – it wasn't an emergency but to know what was going on he or she needed to examine me, what happens then?
Morton
Well of course they couldn't do that but an experienced doctor, such as those that work with us, will very, very quickly pick up on what would be called the red flag symptoms.  And we're not after talking to people for a long time, we're after solving their problem as quickly as we possibly can.  So we would say:  Mark, I'm going to stop you there because I can hear that because of this and this and what I know about your past story you're going to need to be examined.  It doesn't sound urgent but I would make an appointment with your doctor within the next two or three days.  And that is very useful to the customer to know what they've got to do next.
McCartney
Well I mean I think I'm reasonably experienced as well, I graduated in 1994, and I know that when I'm trying to decide how to help someone who's got symptoms that they've just presented with I want to get as much information about that as possible.  Sometimes it is possible to do it over the phone, very often it isn't.  And the idea that we can predict which 70% of people could be safely seen I'm just not sure about that statistic and I think it's really important that we don't treat speed as a marker of quality here.  People talk sometimes about the kind of holy trinity of general practice access, cheap and continuity of care, and people sometimes say you can only pick two of those.  And what we sometimes disrupt is the idea of continuity of care which we know is safer and better for patients with prioritising access and that's not always the right equation.
Morton
I think the concept of continuity of care is great but the reality is that you only need continuity of care if you have an ongoing chronic or serious medical problem or indeed life circumstances that need your GP to know more about you.  Most of us have simple problems that we just like to get solved and get on with our lives.  So I feel that the system that we have at the moment is rather sort of stultifying, it's like a dependency, we've created a dependency for people, they feel they've got to go and see the doctor.  Whereas in fact I'm sure that both you, Mark, as a GP and you Margaret too, you will have given words of advice to your patients, friends, family all the time…
McCartney
Well actually I don't actually because I really want to be a friend to my friends rather than their medical advisor and I'm very keen that people get independent medical advice not from someone they already know.  And we have a fantastic network of pharmacies, for example, which can give really good free advice to people and can give over-the-counter medications.  And actually this service might be creating a different type of dependency by making people feel as though they've got to speak to a doctor urgently for anything they're worried about on the internet and perhaps people might be better getting good information about which websites are more reliable and best information rather than feeling they've got to shell out a lot of money for speaking to a doctor for a very short period of time.
Morton
Well of course we don't consider ourselves to be an online pharmacy, we are an advice service and I think you'd be surprised how many people just want to know if it's something they need to worry about or not.
Porter
Let me deal with a concern of mine Karen and that's abuse of the service.  Let's look at the simple one of antibiotics.  People might struggle to get antibiotics for infections that they don't need antibiotics for from their GP but they could ring you up and say I've got a cough, I feel unwell, can I have some antibiotics please.  Because they're paying are you under some sort of onus to cow tow to their request?
Morton
And the answer is definitely not.  Our GPs will do nothing different to what they would do if they were seeing the patient in their surgery.  We're not an easy antibiotic prescriber.  We feel very strongly about that and if you read the articles that we have on our website about use of antibiotics you'll see that that's true.
Porter
Can I ask about continuity?  What happens if you see somebody with a condition, are you writing to their own doctors?
Morton
Yes, we encourage all our customers to give us their GP details and we do want to communicate with general practitioners, that's absolutely our wish.
Porter
Margaret, does that reassure you?
McCartney
Not really.  You know I mean for example one of the services it's offering is if someone thinks they've got a urine infection, well you can't test a urine sample if someone's on the phone, so the service is sending out a kit, a dipstick testing kit, through the post along with antibiotics.  That's a delay.  I mean someone could phone me up this morning and I would have sorted out the prescription for them and whatever else was needed by lunchtime.  So it just seems to me that there is a fragmentation, what happens then if that antibiotic doesn't work, was there a plan put in place for that then, does the patient know about that?  In general we try and keep things to as few people as possible being involved just to make sure that we're not making anymore…
Porter
But equally Margaret, and I say this as an NHS GP myself, I mean there'll be listeners throwing things at the radio because they know how difficult it is to get hold of you, to get hold of me, to get in to see us…
McCartney
So that's why I think – that's why I think…
Porter
…so you can understand why people might go for a service like this.
McCartney
Yeah, and I was in before seven this morning trying to get stuff organised, that's why I think if we have spare capacity for general practitioners we're better off working in the NHS where we deal with need first, rather than a consumerist approach which is mainly based in convenience.  And I understand, I would love everything to be ready for people instantly but unless we pay higher taxes and get – we wouldn't get the NHS with access that people want.
Morton
May I make one more point Mark?
Porter
Yes.
Morton
We know that people taking time off work to go and see their GP costs British industry £5 billion a year.  It's not reasonable for people to take time off work and to go and have such tiny simple little things remedied.
Porter
We must leave it there – Karen Morton and Margaret McCartney thank you both very much.
Just time to tell you about next week's programme when I will be investigating the latest research into high blood pressure – how low should we go? Join me then to find out.
ENDS