Main content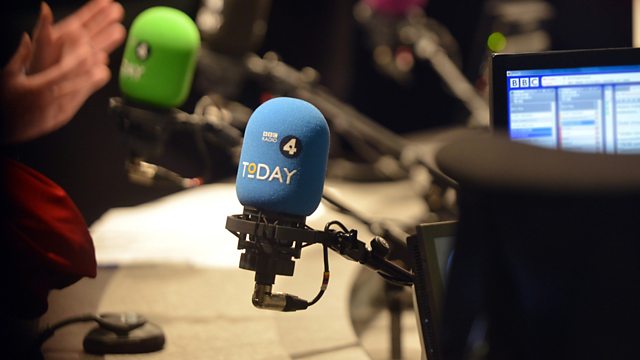 26/01/2016
Morning news and current affairs. Including Sports Desk, Yesterday in Parliament, Weather and Thought for the Day.
Last on

Today's running order
0650
A cure for Type 1 diabetes is a step closer after scientists managed to halt the condition for six months thanks to insulin-producing cells. Sarah Johnson is head of policy at the Juvenile Diabetes Research Foundation which co-funded the research.
0655
In the debate over Britain's future in the EU, how crucial could the votes of ethnic minorities be? According to UKIP's immigration spokesman, Steven Woolfe, BAME votes could swing the referendum outcome. We speak live to Steven Woolfe.
0710
A sudden spike in the number of mental health patients dying unexpectedly in NHS care has prompted calls for a wide-ranging investigation into "threadbare" services that are "struggling to cope". Norman Lamb is Lib Dem MP for Norfolk and former Mental Health minister.
0715
The Brazilian authorities have announced plans to prevent the spread of the Zika virus during the Rio de Janeiro Olympic Games later this year. We have been speaking to Barry Bloom, professor of Public Health at Harvard University.
0720
This morning Radio 4 will air the first of Professor Stephen Hawking's two Reith lectures. He will focus on the history of black holes. Speaking on the programme is Dr Karen Masters, astronomer at Portsmouth University's Institute of Cosmology and Gravitation.
0730
Police, fire and ambulance services in England should share control rooms to improve their response to 999 calls, says Home Office minister Mike Penning. Sir Ken Knight is author of the Fire and Rescue Services Efficiencies Review and Paul Hancock is president of the Chief Fire Officers' Association.
0740
Turkish novelist Orhan Pamuk has created his own museum of everyday objects which have great meaning for him and his fictional characters. The Nobel Prize-winner's best known work, the Museum of Innocence, is now an exhibition of the same name: a set of glass-fronted cabinets filled with items like spoons, clocks, hair clips and toothbrushes which reflect the love story at the heart of the novel. The exhibition opens at Somerset House in London this week and James Naughtie went to meet him.
0750
Yesterday we heard the argument as to why we should stay in the EU from Lord Stuart Rose from the Britain Stronger in Europe campaign. Today it's the turn of the Vote Leave Campaign. Speaking on the programme is Jon Moynihan from Vote Leave.
0810
Today an investigation has found that the death of one-year-old William Mead could have been avoided if the NHS out-of-hours call handlers had recognised just how ill William was - instead, they stuck to a script of questions they had been trained to ask. Speaking on the programme is mother of William, Melissa Mead and director of Nursing with NHS England in the South West, Lindsey Scott.
0820
Publishers are to release a newly discovered and little-known lost story that was written by Beatrix Potter more than a hundred years ago. Speaking live in the studio is Jo Hanks, Beatrix Potter's publisher who discovered the manuscript and Patricia Routledge, an actress who played Beatrix in the 1990s and who is a patron of the Beatrix Potter Society.
0830
Young people are spending more time online than watching television for the first time, according to an annual survey tracking children's media behaviour in the UK. Lorraine Heggessey is former boss of BBC1 and Talkback Thames, and Chyaz Samuel is a vlogger and local TV presenter.
0835
The fast food chain McDonalds has found the secret to halting its falling sales: all-day breakfasts. Sima Kotecha has been to an all-day breakfast café in London to explain why.
0840
In 1952 Winston Churchill was urged to set up a special committee to investigate Communists in Britain - especially in the BBC, according to a file just released at the National Archives and uncovered by this programme. The Director General said he was monitoring those MI5 suspected. The file was marked to remain closed "indefinitely". Sanchia Berg reports.
0850
A fifth sperm whale has been washed up dead near Wainfleet on the Lincolnshire coast. Speaking live in the studio is Mark Evans, Vet and TV presenter who dissected a whale for the BBC programme Inside Nature's Giants.
All subject to change.
Broadcast