Main content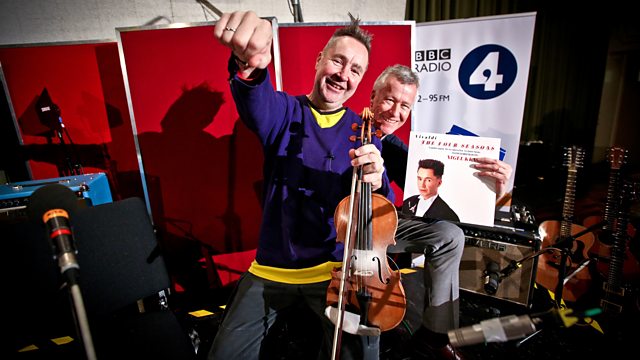 Nigel Kennedy (the A-Side)
John Wilson talks to leading artists about a key album. Nigel Kennedy talks and plays his way back to 1989 and his record-breaking recording of Vivaldi's The Four Seasons.
John Wilson concludes the current series of the programme where he talks to leading performers and songwriters about the album that made them or changed them. Recorded in front of a live audience at the BBC's iconic Maida Vale Studios.
Antonio Vivaldi's 'The Four Seasons' with Nigel Kennedy.
Having trained at both the Yehudi Menuhin School of Music and the Juilliard School in New York, Nigel Kennedy has developed into one of the most popular classical musicians of his generation. This in no small part is due to the phenomenal success of his recording of The Four Seasons in 1989. At the time he explained that he set out to use "every kind of technique I know" to communicate his feeling for the music to his listeners.
Kennedy's passion for non-classical music has seen him play alongside The Who and Kate Bush, record violin-based versions of songs by The Doors and Jimi Hendrix, and release an album for the jazz label Blue Note Sessions. However, The Four Seasons retains a special place in his repertoire, and in 2015 he released a completely fresh take on Vivaldi's violin concertos.
In front of an audience at the BBC Studios in Maida Vale, Nigel Kennedy talks about the album that earned a place in the Guinness Book of Records as the best-selling classical work of all time, and performs exclusive excerpts from the concertos that helped make him famous.
Producers: Paul Kobrak.