Main content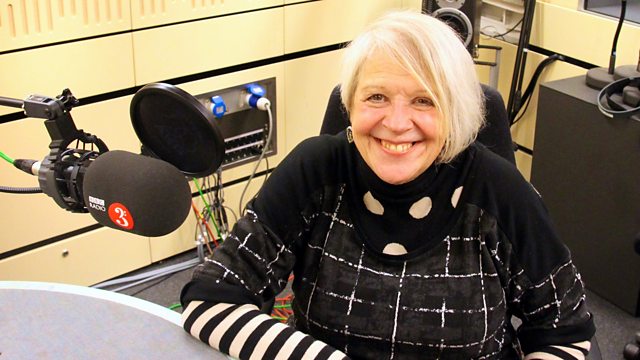 Tuesday - Rob Cowan with Liz Lochhead
With Rob Cowan. Including My Favourite Old-School Violinists; Chopin: Rondo a la Krakowiak; Artist of the Week: Antal Dorati, featured conducting Schumann's Violin Concerto.
9am
My favourite... old-school violinists. Throughout the week Rob shares recordings by some of his favourite violinists. The line-up includes Jascha Heifetz, Ivry Gitlis, Christian Ferras, Toscha Seidel and Philippe Hirschhorn, in music by Richard Strauss, Lili Boulanger, Paganini, Tartini, Wagner and Saint-Saëns.
9.30am
Take part in today's musical challenge: trace the classical theme behind a well-known song.
10am
Rob's guest this week, in the run-up to Radio 3's Folk Connections weekend, is the Scots Makar - the National Poet for Scotland - Liz Lochhead. Liz's poetry collections include Dreaming Frankenstein, True Confessions and New Cliches, Bagpipe Muzak and The Colour of Black and White: Poems 1984-2003. Liz is also a successful dramatist known for her historical play Mary Queen of Scots Got Her Head Chopped Off, her award-winning interpretation of the story of Medea, and her critically acclaimed translation of Molière's Tartuffe. She has been announced as the 2016 recipient of the Queen's Gold Medal for Poetry. Every day at 10am Liz will be sharing a selection of her favourite classical music, including music by Gluck, Sibelius and Korngold, plus Robert Burns' song Green Grow the Rashes.
10.30am
Rob places Music in Time. This week, in the lead-up to Radio 3's Folk Connections weekend, Rob chooses works inspired by folk music, starting with the Romantic era and Chopin's early adoption of Polish folk influences in his Rondo à la Krakowiak. The eighteen-year-old Chopin wrote his Rondo à la Krakowiak in Warsaw shortly before leaving Poland on a European concert tour - never, as it would turn out, to return.
11am
Rob's artist of the week is the acclaimed Hungarian-American conductor Antal Doráti, whose early experience in opera houses in Budapest, Münster, Dresden and Monte Carlo led to a dazzling international career at the helm of a string of top orchestras in the USA and Britain. His vast and varied recording legacy is witness to his performing style, which combined dramatic intensity, rhythmic vigor and an acute ear for colour. Throughout the week Rob showcases a selection of Doráti's finest interpretations of works including Tchaikovsky's Suite No. 3 in G, Schumann's Violin Concerto in D minor, Bartók's Dance Suite, Koechlin's Les Bandar-Log and Beethoven's Fifth Symphony.
Schumann
Violin Concerto in D minor, WoO23
Henryk Szeryng, violin
London Symphony Orchestra
Antal Doráti, conductor.
Music Played
MY FAVOURITE...OLD-SCHOOL VIOLINISTS

LIZ LOCHHEAD'S CHOICE NO.1

LIZ LOCHHEAD'S CHOICE NO.2

Music in Time: Romantic

ARTIST OF THE WEEK: ANTAL DORATI
Classical Roots
Answer: The Farm's 'All Together Now' is based on Pachelbel's Canon in D major
The music played:
Peter Hooton/Stephen Grimes
'All Together Now'
The Farm
Union Square Music Songs Limited