Main content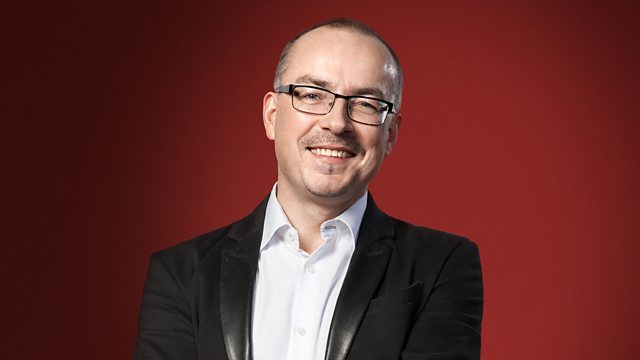 Building a Library: Debussy's Nocturnes
With Andrew McGregor. Including Building a Library: Debussy: Nocturnes; Hilary Finch reviewing a varied selection of recent song recordings; Disc of the Week.
with Andrew McGregor
0930
Julian Johnson recommends a recording of Debussy's Nocturnes. Inspired by the way painters including Turner, Whistler and his French impressionist contemporaries dealt with light, Debussy used an orchestral palette to evoke the slowly changing movement of clouds, a riotous festival, and a silvered moonlit seascape. The music, at once brilliantly orchestrated and subtle, is a demanding test which separates the sheep from the goats among orchestras, conductors and recording engineers.
1030
Hilary Finch reviews an clutch of recent song recordings.
1145
Disc of the Week: Andrew makes a personal choice from the latest releases.
9:00am
The Romantic Violin Concerto 19 - Bruch
BRUCH: Serenade in A minor for Violin and Orchestra Op. 75; Romance in A minor for violin & orchestra Op. 42; Violin Concerto No. 1 in G minor Op. 26
Jack Liebeck (violin), BBC Scottish Symphony Orchestra, Martyn Brabbins (conductor)
HYPERION CDA68060 (CD mid-price)
Tasmin Little plays British Violin Concertos
COLERIDGE-TAYLOR: Violin Concerto in G minor Op. 80
DELIUS: Suite for Violin & Orchestra
WOOD, HAYDN: Violin Concerto in A minor
Tasmin Little (violin), BBC Philharmonic, Sir Andrew Davis (conductor)
CHANDOS CHAN10879 (CD mid-price)

Mendelssohn in Birmingham, Vol. 4
MENDELSSOHN: Violin Concerto in E minor Op. 64; A Midsummer Night's Dream - incidental music Op. 61
Jennifer Pike (violin), Rhian Lois (soprano I), Keri Fuge (soprano II), CBSO Youth Chorus, City of Birmingham Symphony Orchestra, Edward Gardner (conductor)
CHANDOS CHSA5161 (Hybrid SACD mid-price)
09:30am - Building a Library
Julian Johnson surveys recordings of Debussy's Nocturnes and makes a personal recommendation.
Recommendation:
Abbado conducts Debussy
DEBUSSY: Pelleas et Melisande - Suite; Prelude a l'apres-midi d'un faune; Trois Nocturnes
Emmanuel Pahud (flute), Berlin Radio Chorus, Berliner Philharmoniker, Claudio Abbado (conductor)
DG E4713322 (CD)
10.20am – Barshai Box Set
A tribute to Rudolf Barshai
Rudolf Barshai (viola)
ICA CLASSICS ICAB5136 (20CD Budget)
10.50am – New Song Recital Releases
Korngold: Complete Songs (Samtliche Lieder)
Konrad Jarnot (baritone), Adrianne Pieczonka (soprano), Reinild Mees (piano)
CAPRICCIO C5252 (2CD budget)
Parry: English Lyrics & other Songs Vol. I
PARRY: English Lyrics Set 1 (4); One silent night of late; Why art thou slow; To Blossoms; Rosaline; English Lyrics Set 2 (5); English Lyrics Set 3 (6); Crabbed Age and Youth; Under the greenwood tree (Shakespeare) English Lyrics Set VI No. 6; On a time the amorous Silvy (anonymous) English Lyrics Set VII No. 1; Follow a shadow; Ye little birds that sit and sing (Heywood) English Lyrics Set VII No. 3; O never say that I was false of heart (Shakespeare) English Lyrics Set VII No. 4; Julia (Herrick) English Lyrics Set VII No. 5
Susan Gritton (soprano), James Gilchrist (tenor), Roderick Williams (baritone), Andrew West (piano)
SOMM SOMM257 (CD mid-price)
Anthony Rolfe Johnson Recital at La Monnaie
BRITTEN: Winter Words Op. 52; The birds; O Waly, Waly; Heigh ho! Heigh hi!
PURCELL: We sing to him, whose wisdom form'd the ear, Z199; Thou wakeful shepherd that dost Israel keep (A Morning Hymn), Z198; In the black dismal dungeon of despair, Z190; Alleluia
SCHUBERT: Vor meiner Wiege, D927 (Leitner); An die Laute D905; Alinde, D904; Klage an den Mond, D436; Der Vater mit dem Kind, D906 (Bauernfeld); Erlkonig, D328; Die Sommernacht, D289 (Klopstock); Die fruhen Grabe, D290 (Klopstock); Der Winterabend (Es ist so still), D938
Anthony Rolfe Johnson (tenor), Graham Johnson (piano)
CYPRES CYP8607 (CD mid-price)
Schubert Lieder - Nacht Und Traume
SCHUBERT: Dass sie hier gewesen! D775 (Ruckert); Gretchen am Spinnrade, D118; Amalia, D195 (Schiller); Die junge Nonne, D828; Todesmusik, D758 (Schober); Schwanengesang D744 (Senn); Raste Krieger, Krieg ist aus (Ellens Gesang I), D837; Jager, ruhe von der Jagd (Ellens Gesang II), D838; Ave Maria, D839; Die Forelle, D550; Wandrers Nachtlied II 'Uber allen Gipfeln ist Ruh', D768; Lachen und Weinen, D777; Sei mir gegrusst! D741 (Ruckert); Du bist die Ruh D776 (Ruckert); Standchen 'Horch! Horch! die Lerch!', D889; An mein Klavier D342 (Schubart); Nacht und Traume, D827
Ailish Tynan (soprano), Iain Burnside (piano)
DELPHIAN DCD34165 (CD mid-price)
German Ballads
LISZT: Die Vatergruft, S.281
LOEWE, C: Herr Oluf "Herr Oluf reitet spat und weit" Op. 2/2; Odins Meeresritt "Meister Oluf, der Schmied auf Helgoland" Op. 118; Nachtgesange Op. 9: No. 4, Geisterleben; Der Totentanz Op. 44 No. 3
SCHUBERT: Die Burgschaft, D246; Liedesend, D473 (Mayrhofer)
SCHUMANN: Die beiden Grenadiere Op. 49 No. 1; Der Sanger Op. post.145 No. 3
WOLF, H: Die Geister am Mummelsee (No. 47 from Morike-Lieder); Der Feuerreiter (No. 44 from Morike-Lieder)
ZEMLINSKY: Es War Einmal; Waldgesprach
Kay Stiefermann (baritone), Alexander Schmalcz (piano)
CAPRICCIO C3002 (CD mid-price)
11.40am – Disc of the Week
Brahms: Piano Quartet No. 3 & Piano Trio No. 1
BRAHMS: Piano Quartet No. 3 in C minor Op. 60; Piano Trio No. 1 in B major Op. 8
Christophe Gaugue (viola), Vincent Coq (piano), Trio Wanderer
HARMONIA MUNDI HMC902222 (CD mid-price)