Main content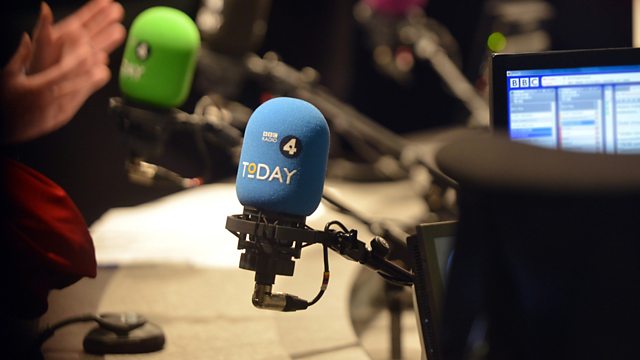 22/01/2016
Morning news and current affairs. Includes Sports Desk, Yesterday in Parliament, Weather and Thought for the Day.
Today's running order
0650
The Dutch government has been accused of ignoring warnings that 60,000 refugees were expected to travel to the Netherlands last year. The BBC's Anna Holligan reports.
0655
Nearly half of councils who answered a Freedom of Information request are ignoring new rules intended to protect families from paying unfair care home fees for their relatives. Speaking on the programme is Dr Jane Martin, local government ombudsman.
0710
One of the key suspects in the murder in London of Alexander Litvinenko - the former Russian spy - has told the BBC he had nothing to do with his killing in 2006. The leader of Peoples Freedom Party and an outspoken critic of Vladimir Putin, former Russian Prime Minister Mikhail Kasyanov speaks live on the programme.
0715
Four Syrians who have been living in a Calais migrant camp arrived in the UK last night, after British judges ruled that they could come to the UK immediately because they had siblings here. Speaking on the programme is Mark Scott, a solicitor representing the four Syrians.
0720
David Cameron will meet his Czech counterpart today as part of on going efforts to secure a deal on EU reform.  We hear from the BBC's political correspondent Alex Forsyth.
0730
The Prime Minister has ordered a crackdown on what's described as 'abuse by lawyers pursuing soldiers through the courts for simply serving their country'. Speaking on the programme is Sir Richard Dannatt, former chief of the General Staff.
0740
Forty-one public sculptures across England which were designed to bring our public spaces back to life after WWII are being newly listed by Historic England, following a campaign calling for public art to be given better protection. Speaking live in the studio is Sculptor William Pye, whose work Zemran has been included on a new list of public art works protected by Historic England.
0750
He doesn't need the money or the kudos so why is Michael Caine - perhaps Britain's biggest Hollywood star - still making movies rather than retiring to the golf course? Nick Robinson has been speaking to Mr Caine himself.
0810
The Prime Minister of France Manuel Valls has told the BBC that Europe could "die" if it fails to protect its borders to resolve the migrant crisis. The BBC's Lyse Doucet has been speaking to French Prime Minister Manuel Valls and we speak live to the director for Europe for the UNCHR Vincent Cochetel and former Conservative leader Lord Howard.
0820
With elections coming up for the Mayor of London, Welsh Assembly and Holyrood - the Scottish Parliament where all the opposition parties are trying to find a way of tripping up the all-conquering SNP. And, as everyone has learned in the last couple of years, the results in Scotland have important consequences across the UK. James Naughtie has been reporting on the streets with both sides.
0845
Since it launched air strikes in Syria three-and-a-half months ago, Russia says its air force has carried out nearly 6,000 sorties. Western governments have accused Russia of causing hundreds of civilian deaths with unguided munitions. The BBC's Steve Rosenberg reports.
0850
One of the key suspects in the murder in London of Alexander Litvinenko - the former Russian spy - has told the BBC he had nothing to do with his killing in 2006. Speaking live on the programme is Pulitzer Prize-winning author Anne Applebaum and columnist at The Independent newspaper Mary Dejevsky.
0855
The European Court of Human Rights ruled that a firm was within its rights to read a worker's Yahoo Messenger chats sent while he was at work. How far is the trend going to go and what does it mean for employees? Kate Bevan is a technology and broadcast journalist and Dr Chris Brauer is director of Innovation at the Institute of Management Studies at Goldsmiths University.
All subject to change.