Main content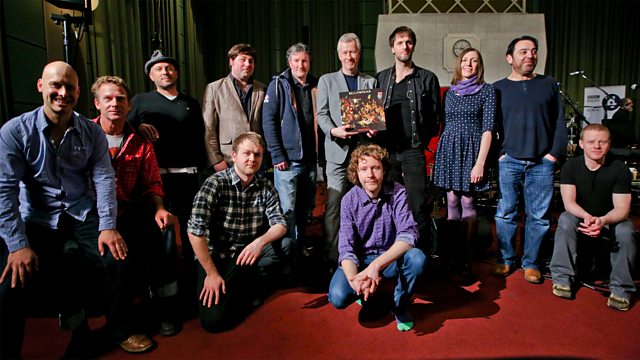 Bellowhead (the A-Side)
Bellowhead talk to John Wilson about their 2010 album Hedonism.
John Wilson continues with his new series in which he talks to leading performers and songwriters about the album that made them or changed them. Recorded in front of a live audience at the BBC's iconic Maida Vale Studios.
Programme 9. 'Hedonism' by Bellowhead, released in 2010 and still the best selling independent folk album of all time.
The idea for Bellowhead came to John Spiers and Jon Boden when they were caught in a traffic jam on tour. The longer they were stuck in the car, the more names of friends they came up with of whom to invite - initially settling on a 'modest' line-up of 10 which then grew to an even sillier 11-piece after the recording of their first EP.
In June 2015, they announced that the band would be calling it a day on May 1st 2016, and exactly two weeks after the twelfth anniversary of their first ever gig in Oxford Town Hall they will finish their farewell tour with an intimate final show in the very same venue. The tickets for this gig sold out in two minutes.
Their most commercially successful album, Hedonism was recorded in Abbey Road Studios and released in October 2010. Produced by John Leckie, it served up a further mix of shanties, folk songs and dance tunes, arranged in an eclectic mix of musical styles and influences. The album includes rousing versions of 'Cold Blow The Wind', 'New York Girls' and the Jacques Brel song 'Amsterdam'
The B-side of the programme, where it's the turn of the audience to ask the questions, can be heard on Tuesday 19th January 2016 at 3.30pm.
Producer: Paul Kobrak.
Last on
Broadcast