Main content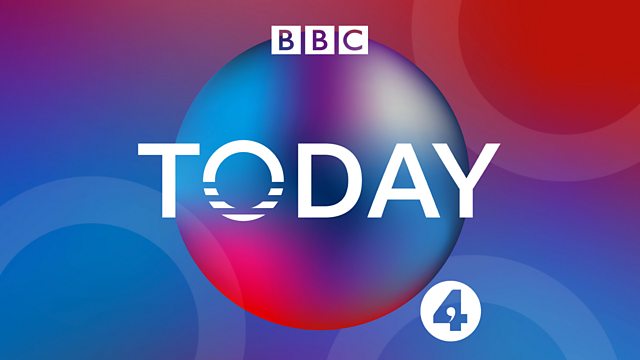 18/01/2016
Morning news and current affairs. Including Sports Desk, Weather and Thought for the Day.
Last on
Today's running order
0650
A satellite that will act as an early warning system for the El Nino weather phenomenon has been launched into space. Speaking on the programme is Josh Barker, from the National Space Centre.
0655
Oxfam says the wealthiest 62 people in the world own as much as the poorest half of the global population - or 3.6 billion people. Max Lawson is head of Global Policy and Campaigns at Oxfam.
0710
Over the last decade 16 players who have ranked in the top 50 have been repeatedly flagged to a body called the tennis integrity unit over suspicions they have thrown matches, including at Wimbledon. Justin Webb has been talking to the Secretary of State for Culture Media and Sport John Wittingdale.
0715
The government says thousands of Muslim women who can't speak English are to be given the chance to learn the language. Dal Babu is a former senior Muslim Police officer and former chief superintendent for the Metropolitan Police.
0720
A drama school student has made her debut at the Royal Exchange in Manchester after one of the lead actors in the cast of the musical Into The Woods fell ill. Melissa Bayern is a graduate of the Royal Welsh College of Music and Drama and Matthew Xia is associate artistic director of Manchester's Royal Exchange Theatre.
0730
Tata Steel is cutting more than a thousand jobs in the UK - most of them in Port Talbot. Speaking on the programme is Alan Coombs, president of Community trade union and Louise Miskell, professor of history at Swansea University who researches the history of the steelworks.
0740
Bolton Wanderers face being wound up during a hearing at the High Court this morning. What went so badly wrong? Tom Bateman reports from Bolton this morning.
0750
The Alzheimer's Society says it has uncovered evidence of poor and variable hospital care for people with dementia in England. Sally-Ann Fowler is a carer for her father Geoff, who has vascular dementia, and Jeremy Hughes is chief executive of the Alzheimer's Society.
0810
The government says thousands of Muslim women who can't speak English are to be given the chance to learn the language. The scheme has been announced by the Prime Minister as part of a new drive to create a more cohesive society and counter extremism. We will be hearing from Prime Minister David Cameron.
0830
An investigation by the BBC and the website BuzzFeed News has seen evidence of suspected match fixing at the top level of world tennis, including the Wimbledon Championships. Richard Ings is former head of the anti-corruption programme at the Association of Tennis Professionals Tour.
0835
Doctors in Sheffield say patients with multiple sclerosis are showing "remarkable" improvements after receiving a treatment usually used for cancer. Fergus Walsh reports and we speak live to Professor Basil Sharrack, consultant haematologist at the Royal Hallamshire Hospital and principle investigator in the study.
0840
MPs will debate a petition signed by 573,590 people urging action to ban Donald Trump from the UK after he called for Muslims to be denied entry to the US on grounds of counter-terrorism. Speaking on the programme is Paul Flynn, Labour MP for Newport West, who will be leading the Commons debate on the Trump petition and Tasmina Ahmed-Sheikh, SNP member for Ochil and South Perthshire.
0850
David Cameron has long made clear that he believes segregation in some communities is a profound problem that helps fuel extremism. Zubeda Limbada is founding director of anti-extremism think tank Connect Justice and Anjum Anwar is chair of charity Woman's Voices.
All subject to change.
Broadcast