Main content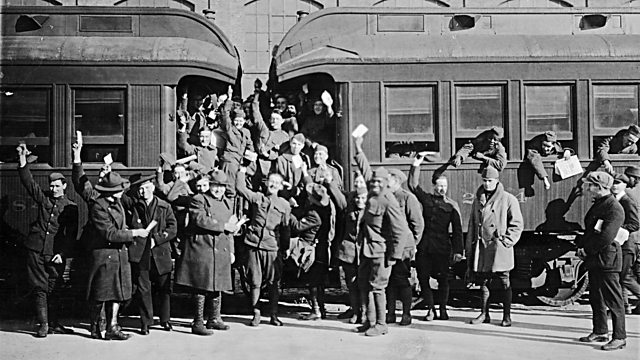 The Atlantic War
Christopher Clark explores why America entered the First World War and argues this was a decisive factor in the outcome of the conflict.
The year 1917 was a watershed for WW1. It began and ended with two momentous events - American's entry into the war and Russia's collapse amidst revolution. Both events had a profound impact on the course of world history. In this programme, Professor Sir Christopher Clark focuses on 1917 as a turning point in the conflict, examining why America entered the First World War and showing how this was the decisive factor in the outcome of the conflict.
At the Brookwood American military cemetery, Chris encounters German Americans among the names of the war dead and ponders the impact of the First World War on this ethnic group in America.
Finally, he argues that while the war established American pre-eminence in the world it also turned America in on itself, isolating it from the world's affairs. The result was a vacuum at the core of the new world order - a dangerous lack of cohesion that would leave it vulnerable to further shocks.
With John Thompson, Dominic Lieven, Gary Gerstle and Craig Rahanian.
Sir Christopher Clark is Regius Professor of History at the University of Cambridge. He is the author of Kaiser Wilhelm II: A Life in Power, Iron Kingdom and - most recently - the highly acclaimed and award-winning The Sleepwalkers: How Europe Went To War. In 2014, he presented Month of Madness on BBC Radio 4 about the outbreak of the First World War. You can listen to that series online by visiting http://www.bbc.co.uk/programmes/b03t7p27 or clicking on the related link below.
Produced by Melissa FitzGerald
A Blakeway production for BBC Radio 4.