Main content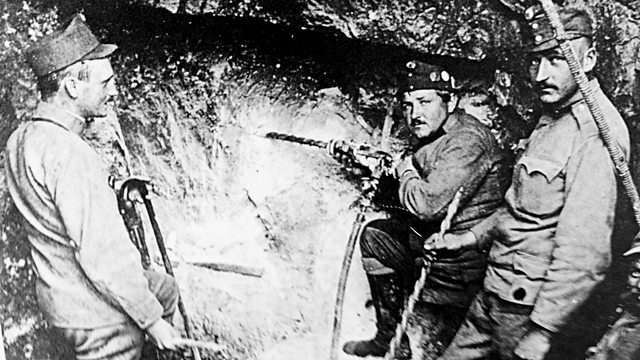 The White War
Christopher Clark travels to Slovenia, the setting of the Italian front and the scene of the some of the harshest fighting to take place during the First World War.
Professor Sir Christopher Clark travels to the Julian Alps in Slovenia on the 1914 border between Austria-Hungary and Italy. This was the scene of some of the harshest fighting to take place during the war. He examines why Italy entered the war on the side of Britain, France and Russia and traces Mussolini's post-war rise to power back to Italy's involvement in the First World War.
Chris explores how the mountainous landscape shaped the nature of fighting on this front, where troops fought at altitudes of up to 12,000 feet in temperatures as low as -30ºC. Even today, warmer summers are releasing corpses and other material from their icy tombs. The river Soca, or Isonzo as it is known in Italian, has a similar burden of associations that the Somme does to the British because the Italians lost half of their entire war casualty here.
With Mark Thompson and Željko Cimpric.
Sir Christopher Clark is Regius Professor of History at the University of Cambridge. He is the author of Kaiser Wilhelm II: A Life in Power, Iron Kingdom and - most recently - the highly acclaimed and award-winning The Sleepwalkers: How Europe Went To War. In 2014, he presented Month of Madness on BBC Radio 4 about the outbreak of the First World War. You can listen to that series online by visiting http://www.bbc.co.uk/programmes/b03t7p27 or clicking on the related link below.
Produced by Melissa FitzGerald
A Blakeway production for BBC Radio 4.