Main content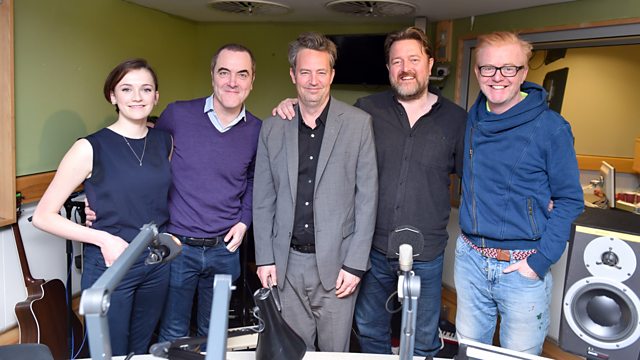 Matthew Perry, James Nesbitt, Charlotte Ritchie and Guy Garvey
Chris is joined by Friends actor Matthew Perry, Cold Feet and Lucky Man's James Nesbitt and Call the Midlife's Charlotte Ritchie, plus live music from Guy Garvey.
Former Friends star Matthew Perry, tells Chris about his playwriting debut in The End of Longing. Cold Feet's James Nesbitt, pops in to talk about new Sky 1 crime drama Lucky Man and Call the Midlife's Charlotte Ritchie spills the beans of the hit show's latest series. Plus the amazing Guy Garvey plays new material from his debut solo album Courting the Squall.
Last on
Music Played
Bruce Springsteen

&

The E Street Band

Born To Run

Mark Ronson

Uptown Funk (feat. Bruno Mars)

(CD Single).
Columbia.
001.

Survivor

Eye Of The Tiger

The No.1 Movies Album (Various Artist.
Polygram Tv.

Mark Ronson

Uptown Funk (feat. Bruno Mars)

(CD Single).
Columbia.
001.

The Smiths

This Charming Man

The Smiths - The Very Best Of.
WEA.
2.

Madness

Baggy Trousers

More Greatest Hits Of 80's (Various).
Disky.

Turin Brakes

Keep Me Around

Lost Property.
Cooking Vinyl.

Don McLean

American Pie

Don McLean-American Pie/Greatest Hits.
EMI.

Four Tops

I Can't Help Myself

The Four Tops - The Singles Collectio.
Polygram Tv.

Paul Carrack

Keep On Lovin' You

Soul Shadows.
Carrack-UK.
001.

Neil Diamond

Love On The Rocks

Neil Diamond - The Ultimate Collectio.
Columbia/Mca.

Neil Diamond

Cracklin' Rosie

Neil Diamond - The Ultimate Collectio.
Columbia/Mca.

Neil Diamond

Sweet Caroline

Neil Diamond - The Ultimate Collectio.
Columbia/Mca.

Rudimental

Lay It All On Me (feat. Ed Sheeran)

Morecambe & Wise

Bring Me Sunshine

Summer Holiday (Various Artists).
Sony Music.

Pratt & McClain

Happy Days

Television's Greatest Hits Volume 3 70s & 80s.
Silva Screen Records Ltd.

Thomas Rhett

Crash And Burn

Tangled Up.
The Valory Music Co.
1.

The Rolling Stones

Start Me Up

The Rolling Stones - Forty Licks.
Abkco.
7.

Birdy

Keeping Your Head Up

(CD Single).
Atlantic.
001.

Sam Hunt

Take Your Time

(CD Single).
MCA Nashville.
015.
Pause For Thought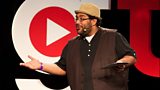 Abdul-Rehman Malik, journalist and broadcaster
Chris, I don't know if it's just me, but I always find January hard going. New Year's resolutions abound and I envy those who are able race back into the gym, jump headlong into a 7-day detox juice cleanse and schedule some time to reboot.
On the other hand, I'm still trying to clear the backlog e-mails that should have been answered in December. Perhaps I need to search out some supernatural intervention like the "Lucky Man" in James's new show. 
As my son and I stepped out to do the groceries the other night, the chilly evening gust reminded me of another January night 25 years ago. 
I was 15 years old and it was an astonishingly cold Canadian evening just after New Year's. Having grown up in Canada, Matthew would know exactly the kind of night I mean.  My family were huddled around the fireplace when the doorbell rang.
The man standing at the door was probably my height, but much older. Gray hair peaked out from underneath a threadbare, snow-covered cap. His coat was at least a few seasons past it's best before date and he wore running shoes when the icy footpath called for boots.   
He was selling coupons for a local garage. An oil, transmission and engine check for $20. Judging by the wad of coupon books in his shivering hands, it didn't look like he'd sold very many.
My first instinct was to buy one. I even had a $20 bill in my pocket. I should have at least invited him in for a cup of tea. Instead, perhaps annoyed at having my warmth disturbed, I said a firm "no thank you" and closed the door. As I turned around, I felt immediate regret. 
I quickly opened the door to call to him but he was gone. I even pulled on my jacket and ran out into the night. It was as if he'd vanished. 
There's no dramatic ending to this story, but it's stayed with me all this time, because 25 years later I still wish I'd acted differently. 
"This being human", counselled the mystic Rumi, "is a guest house. A joy, a depression, some momentary awareness comes as an unexpected visitor. Welcome and entertain them all! Be grateful for whoever comes, because each has been sent as a guide from beyond."
The possibilities for blessing are all around us. My resolution is to pay closer attention to when they pop up and try to capture them, whether it's with smile, a hand up or a warm cup of tea. Juice cleanses, thankfully, are not required.
Broadcast