Main content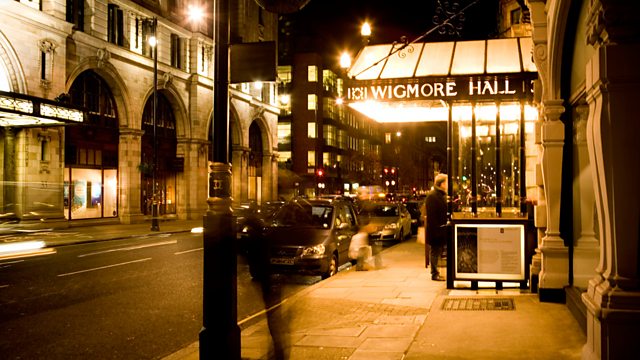 Nash Ensemble - Boccherini, Wolf, Mendelssohn, Mozart
Recorded at Wigmore Hall in London, Ian Skelly presents the Nash Ensemble with baritone Roderick Williams perform Mozart, Mendelssohn, Boccherini and Wolf.
Recorded at Wigmore Hall, London
Presented by Ian Skelly
The Nash Ensemble with Roderick Williams, baritone, perform Boccherini, Mendelssohn and Mozart.
Roderick Williams, baritone
Nash Ensemble
Boccherini: String Quintet in C major Op. 28 No. 4
Wolf: Italian Serenade in G major for string quartet
Mendelssohn: Im Frühling, Op. 9 No. 4, Im Herbst, Op. 9 No. 5, Neue Liebe, Op. 19a No. 4, Bei der Wiege, Op. 47 No. 6, Nachtlied, Op. 71 No. 6, Frühlingslied, Op. 71, No. 2
8.15: Interval
Interval music (from CD)
Debussy: Sonate en trio (for flute, viola and harp)
Nash Ensemble: Philippa Davies (flute), Roger Chase (viola), Marisa Robles (harp)
Mozart: String Quintet in G minor K516
Roderick Williams, baritone
Nash Ensemble:
Ian Brown (piano)
Stephanie Gonley & Laura Samuel (violins)
Lawrence Power & Scott Dickinson (violas)
Adrian Brendel & Alice Neary(cellos)
One of the graceful quintets with two cellos by the Italian-born, Spanish-based Luigi Boccherini opens this programme; the most dramatic and intense of Mozart's quintets with two violas closes it. In between come a quartet movement by Hugo Wolf drenched in Italian sunshine, and a group of Mendelssohn songs sung by baritone Roderick Williams.